The airport in Lisbon, Portugal is one of the largest in Southern Europe and is a major transport hub between a number of important worldwide destinations. Many flights to Brazil and the rest of the Americas connect through Lisbon airport via a number of European capitals and major cities.
Lisbon airport is equipped with two runways and has been undergoing further expansion and development since its second terminal building was opened in 2007, in order to serve the continued increase in air traffic it has seen since that time.
More than 13 million passengers pass through the airport en route to destinations in Portugal and worldwide every year and the authorities have invested heavily to ensure that their departures, arrivals and transits are as quick and comfortable as possible.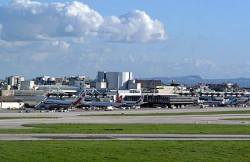 Facilities at Lisbon airport are relatively extensive and include restaurants, duty free shops, left luggage and baby care equipment. There are also meeting rooms and a business lounge for those who need to travel to or through Lisbon airport on business.
There is a large central restaurant located in the terminal building, which serves both buffet-style and a la carte meals, along with several other restaurant options catering for different tastes and budgets. Snack bars are strategically located throughout the arrivals and departures areas along with some well-known fast-food names.
Shopping consists of typical airport offerings, including Portuguese and European specialities for those forgotten family gifts, along with duty free sunglasses, alcohol, tobacco, clothing and accessories. There is also a selection of books alongside newspapers, magazines and other stationery items.
Portugal's currency is the Euro. It is possible to change currency in both the arrivals and the departures areas, either from Sterling to Euro or to another currency that is appropriate to your worldwide destination. There are several ATMs located in the terminals from which it is possible to withdraw cash in Euros.
Left luggage facilities are available within the airport on Level 2 of the P2 car park. If you require directions or other information, ask at the help desks which are conveniently located in the arrivals and departures areas.
The airport in Lisbon, Portugal, also known as Portela Airport, is located just 7km north of the city. There are many hotels nearby, and thanks to the airport's proximity to the centre, visitors can quickly and easily make their way from the airport to any hotel located in and around the city.
Lisbon Airport
Alameda das Comunidades Portuguesas
1700-111 Lisbon
Portugal
Tel: + 351 218 413 500
Email: lisbon.airport@ana.pt
www.ana.pt