The Discoveries Monument was built in Lisbon in honour of the great Henry the Navigator, who led Portugal's discovery expeditions into the New World during the country's heyday in the 15th century.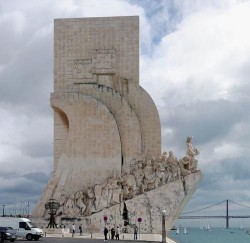 It was designed in 1939 by the Portuguese architect Jose Angelo Cottinelli Telmo alongside his countryman, sculptor Leopoldo de Almeida. Initially intended as a temporary structure to mark the opening of the Portuguese World Fair which took place in Lisbon in June 1940, the original structure was demolished after the exhibition, however it was decided by Royal Decree in 1958 that a permanent structure should be erected.
It is this structure, made from cement and rose-tinted stone, with statues sculpted from local limestone, which sites in pride of place today.
The project is still based on the original by Cottinelli Telmo and was inaugurated in 1960 – fittingly to coincide with the 500th anniversary of Henry the navigator's death. It is an exact replica of its predecessor and stands at 171 feet tall. It is located in the Belem area of Lisbon, which was the starting point for so many of the discovery voyages.
Indeed, it was from Belem that Vasco da Gama embarked on his voyage from Portugal to India in 1497, and it was here too that Christopher Columbus anchored on his way back to Spain following his historic discovery of the Americas.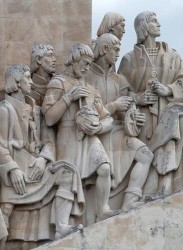 The Discoveries Monument is located close to the Jeronimos Monastery and can be reached via an underpass from its gardens. The sculpture comprises more than 30 statues of people who played an important historical role in the discoveries, led of course by Henry the Navigator himself. The latter is shown standing on the bow of the 'ship' holding a model of a caravel.
Henry the Navigator is flanked by King Afonso V, who supported the colonisation of Africa, alongside Vasco da Gama, Pedro Alvares Cabral, the discoverer of Brazil, and Ferdinand Magellan, the first explorer to circumnavigate the globe.
In their wake come a series of explorers, writers, missionaries, a mathematician, a map maker and other key figures from the epoch. Notably the only female to be depicted is Queen Felipa of Lancaster, Henry the Navigator's mother, who is credited with being the brain of the discoveries.
The pavement in front of the Discoveries Monument is adorned with an attractive mosaic that depicts a compass, alongside a map of the world showing the routes that were taken by Portugal's intrepid explorers and the dates on which they were taken.
It is possible to go inside the Discoveries Monument, where you will find a museum, exhibition halls and various other rooms and areas spread out over an impressive seven floors.
At the very top, accessible by elevator, is an expansive terrace which offers breathtaking panoramic views over the district of Belem, the Tagus River and the rooftops and spires beyond.
Jeronimos Monastery
Praça do Imperio
1400-206 Lisbon
Portugal
+351 213 620 034