The Bairro Alto and the Chiado in Lisbon are two neighbourhoods located side by side in Portugal's vibrant capital city. Although the two areas are distinct in terms of their architecture and focus, they are often visited together and mesh closely to form Lisbon's cultural and bohemian heart.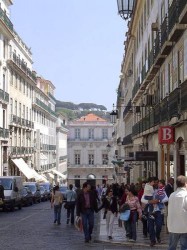 The Bairro Alto literally translates as the 'High Quarter', in reference to its location at the top of the city. It is an attractive area that dates back to the 16th century and was traditionally Lisbon's bohemian heart, frequented by artists, writers and philosophers.
If you are looking for entertainment in Lisbon, this is the place to head. By day the Bairro Alto is an unassuming warren of narrow, gridded streets but come night time it transforms into the beating heart of Lisbon nightlife.
The cobbled lanes and colourful building facades make the perfect backdrop for a night of bar hopping in the balmy Mediterranean climate of Portugal's capital.
The Bairro Alto is literally awash with restaurants serving traditional and international food, bustling bars and music houses and bohemian shops. It is also the heart of the Fado music scene in Lisbon, a night of which is not to be missed during your visit.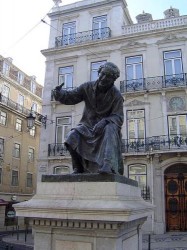 The Praca Luis de Camoes square connects the Bairro Alto with the Chiado in Lisbon. The Chiado has a more elegant and sophisticated feel than the Bairro Alto and is home to the city's theatres, bookshops, old-style cafes and fashion boutiques.
Some of the world's most famous names are represented here, such as Hermes, alongside Portugal's leading fashion names such as Ana Salazar.
Sadly a huge fire in 1988 caused major damage to the Chiado in Lisbon, but its subsequent renovation has lifted it into the 21st century whilst still retaining its unique old-world charm.
The Chiado covers an area that leads right down to the river front from high up on the hill at the Principe Real Garden. It incorporates the city's gay quarter, where a number of bars and clubs can be found, as well as showcasing some delightful 19th-century townhouses that escaped the devastating fire.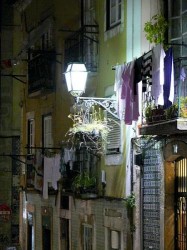 Right at the top of the Chiado can be found the beautiful baroque church of Sao Roque, as the area approaches the Bairro Alto. It is worth a visit not so much for its modest exterior but for the surprising beauty that is hidden behind its façade.
The Museum of Sacred Art can also be found here, in which a number of 16th-century paintings and other religious artefacts can be found.
Plan your visit so that you can explore the daylight hours in the sophisticated Chiado area, sightseeing, shopping and taking in the many delightful sights and sounds.
Once night falls, head on into the Bairro Alto to join the many Lisbon residents and tourists who will party throughout the narrow streets and alleyways until dawn.