The Cristo Rei statue in Lisbon is one of the most iconic monuments in Portugal's capital city. It was inspired by the Christ the Redeemer statue in Rio de Janeiro, Brazil, following a visit by the Cardinal Patriarch of Lisbon to the Brazilian city in 1959 and permission was granted by then rule, Salazar.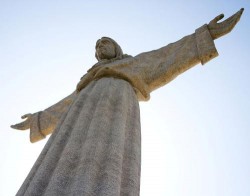 The monument was erected as a thank you to god for Portugal having been spared during the Second World War. It is centrally located in a dominant position in the Almada, on the opposite banks of the Tagus River from downtown Lisbon.
The statue measures 92 feet high and is perched on a 270-foot high pedestal, which can be reached by an elevator.
The Cristo Rei statue stands with open arms in a symbolic gesture, dominating the city's skyline. The views from the statue are as breathtaking as the views of it, with the sweeping panorama taking in the banks of the Tagus River, the 25 de Abril Bridge that crosses it, and the rooftops and spires of the Lisbon skyline beyond.
Getting to the Cristo Rei statue is a journey in itself and one that every visitor to Lisbon should make at least once. It is accessible via the Cais do Sodre metro station, from which it is just a short walk to the ferry terminal.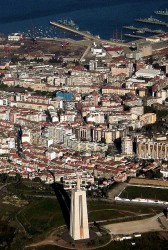 Here it is possible to catch a ferry across the river to Cacilhas which sits on the opposite banks. From Cacilhas it is a short walk or a bus ride to the monument itself, through a colourful neighbourhood lined with lively bars and restaurants and ancient buildings reminiscent of times gone by.
It is possible to go inside the Cristo Rei statue, and to do so is well worth the trouble to admire the vast space that sits behind the façade.
The interior is divided up into several areas, including the Chapel of Our Lady of Peace and the Chapel of the Confidants of Jesus. There are a number of artefacts and sculptures on display inside.
Following a large-scale renovation project the interior now also houses a restaurant, meeting hall, dining room, kitchen and dormitories.
It is used as the meeting place for the Conference of Bishops on a regular basis.
The Chapel of Our Lady of Peace also underwent extensive renovation, as did the main sacristy, the Chapel of the Confidants of the Heart of Jesus and the main façade.
Take the elevator up to the observation deck to admire the views out across Lisbon beyond, guaranteed to leave you with crystal clear memories of your visit to Portugal's vibrant and historic capital city.
Cristo Rei Statue
Alto do Pragal
Avenida Cristo Rei
2800-058 Almada
Portugal
Tel: +351 212 751 000