Sao Vicente de Fora, or St Vincent's Church, is a 17th-century church and monastery that is well worth a visit during your trip to Lisbon, Portugal.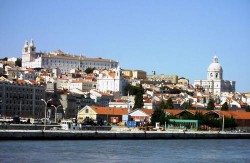 The Monastery of Sao Vicente was originally founded in the 12th century at the behest of King Afonso Henriques. It was designed to commemorate the Portuguese soldiers and northern European crusaders who had fought the Moors and who lay buried on the site.
The name 'de Fora' literally means 'from outside', in recognition of the fact that the monastery lays outside the city walls.
The Sao Vicente de Fora Church was added to the site in 1582, although work did not finally complete until 1629, while the reconstructed monastery buildings were completed as late as 1704. It was ordered by King Philip II of Spain, who had come to power after a succession crisis in 1580.
The Sao Vicente de Fora Church was designed by the Italian architect, Filippo Terzi in Italian Renaissance style. The facade boasts a pair of twin towers, while the interior consists of a Latin cross with a one-aisled nave and lateral chapels.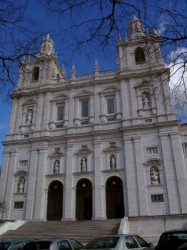 A barrel vault with a Renaissance dome stands over the crossing. The dome collapsed and fell to the ground during the great Lisbon earthquake of 1755 and was later rebuilt.
The façade has a very austere look and is decorated in several niches with statues of saints. Flanked by the two towers, the lower part of the façade also boasts three arches leading to the main entrance hall.
Highlights inside the Sao Vicente de For a Church include the highly ornate main altarpiece. Designed in the 18th century, it was the work of Joaquim Machado de Castro, one of Portugal's most famous sculptors.
It is shaped as a baldachin and decorated with many statues. Each of the lateral chapels also boasts a fine altarpiece.
After the House of Braganca assumed power in Portugal, and all the rulers of the dynasty, from 1640 to 1910 were laid to rest here apart from Maria I and Pedro IV. These included Catherine of Braganca, the Portuguese princess who became Queen of England when she married Charles II.
Although power was seized from the House of Braganza in 1910, the last queen of Portugal, Amelia, died in 1951 and is also buried here.
In 1855, the old monastic refectory became the official pantheon of the dynasty.
The Pantheon is located through a gate to the right of the main façade entrance. The interior and cloisters are decorated with some exceptional 'azulejos' or tile work which dates back to the 18th century.
Look out for the series of panels depicting scenes from La Fontaine's Fables and don't miss the chance to head up to the roof terrace to admire the breathtaking views of the National Pantheon, Alfama, Tagus River and the rooftops of Lisbon beyond.
Sao Vicente de Fora
Largo Sao Vicente
1100-572 Lisbon
Tel: +351 218 824 400