For many visitors, one of the great delights of visiting Portugal is the opportunity to buy inexpensive and highly treasured mementos of your trip. Sintra and the surrounding area offers shopping in abundance, whether you are looking for arts and crafts pieces, hand-painted ceramic tales in traditional or modern style, jewellery, clothing and even furniture and accessories for the home.
Exploring Portugal's open-air markets is a great way to start your discovery of what is on offer and Sintra plays host to several markets on a regular basis. Head to the municipal market for colourful fresh produce, as inviting as the happy, welcoming smiles of the stallholders and to the lively market held in the suburb of Sao Pedro on the second and fourth Sundays of the month for artisan goods, household staples, shoes and clothing.
The Sintra Bazaar is another market-style retail area. Here at the Sintra Bazaar you can choose from a whole range of household goods, trinkets, gifts, jewellery and random market-style items.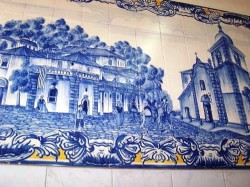 As with all markets the quality varies, especially for clothing and shoes, but it is well worth working your way through the numerous stalls to sniff out some well-made, well-priced bargains. Be prepared to haggle too – it's normal in Portugal. The Sao Pedro market is interesting from historical perspective too, as it dates back to the times of the Christian Reconquest several centuries ago.
Hand pick your memento
The winding streets of the old town centre in Sintra are full of quirky shops, cafes and boutiques selling a range of attractive artisan items. This is the place to sniff out some unusual azulejos (traditional tiles) other hand-painted ceramics in a variety of styles, hand-made lace and a whole host of other gifts.
There is a strong tradition of lace making and embroidery in Portugal with several of the shops clustered around the centre specialising lace and hand-embroidered linens including tea towels, bed linen, table cloths, aprons and some very cute baby clothes too. Try Almorabida, the upmarket Casa Branca or the more modestly priced Violeta. Almorabida and Violeta stock some good quality souvenir t-shirts too, likely to last long past the first wash, intact and in shape.
Ceramics and other gifts are found in abundance in the shops that line the small streets leading off the Praça de Republica, with plates, cups and decorative items stocked alongside some lovely azulejos depicting hand-painted scenes from Sintra's romantic and colourful past. Try A Esquina or Casa Alegria for a good selection. Look out too around the Praça de Republica for the several small galleries stocking 3d works, prints and paintings for sale by some talented local artists.
Gold is required by law in Portugal to be a minimum of 19.2 carats, meaning that if you choose to invest in gold jewellery during your stay you are guaranteed a high level of quality. Prices are extremely competitive too, making the many jewellery shops popular targets amongst the country's many visitors. Jewellery in Sintra has a reputation for being considerably cheaper than in nearby Lisbon so if this is of interest to you it is well worth exploring your options.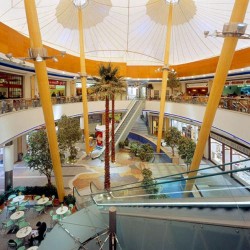 The downtown area close to Sintra station is the place to search for antique furniture and decorative items for the home. Henrique Teixeira is one of the best, with a great selection to suit all tastes and budgets.
Nearby Cascais is worth a visit for the many shops and boutiques that line the beachfront and populate the town centre. Plenty of beachwear lines are on offer, from budget to designer, along with fun jewellery with a nautical theme. Take your time to look in on the fish market while you are there too – the perfect spot to pick up some fresh seafood and shellfish to cooking on the barbecue if you are staying in self-catering accommodation.
Away from the town-centre boutiques are several larger malls catering for every need. Cascais Shopping is a large retail outlet located on the RN9 between Cascais and Sintra, full of well-known high street names, sophisticated boutiques and home décor stores.
Cascais Shopping is one of the country's largest retail outlets outside Lisbon and is particular popular amongst youngsters in search of good quality, high fashion clothing. The large cinema complex and food court are also a major draw.
Beloura Shopping, a little closer to town, is another popular mall. Smaller than Cascais shopping, Beloura Shopping is worth a trip for the SuperCor outlet, which sells a good range of imported foods and beverages, some smart clothing boutiques and a cinema complex to keep you or the little ones entertained in the unlikely even the beautiful Sintra weather fails to impress.