Visitors in search of sightseeing and scenery will not be disappointed with Sintra's beautiful location. But add sun, sea and sand to the pot and you have the recipe for the perfect vacation in Portugal.


Head west from Sintra town centre and follow the hills and the rolling valleys as they give way to the cliffs that flank the Atlantic shores. Within just fifteen minutes you can be on the golden sands of the western European coastline, enjoying the warm sun and refreshing waters against the scents of freshly grilled seafood.
A 100-year-old tramway links Sintra with this stretch of coast, providing a unique ride through the lush greenery before you are deposited at your beach destination (The tram service has been intermittently suspended recently for maintenance works, so check at the tourist office in Sintra old town before you make your arrangements).
Sintra's beaches offer the perfect combination of secluded coves with tranquil waters ideal for swimming and fishing, wide stretches of sandy beach where surfers ride the Atlantic rollers and towering cliffs perfect for paragliding.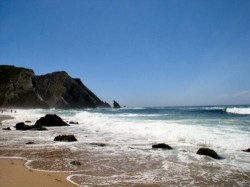 Most visitors arrive at Colares at the end of the direct tram line or a short bus or taxi ride away from Sintra. Colares is a cosy beach town with a promenade, a good selection of bars and restaurants and several hotels and pousadas for guests who prefer to stay on the coast rather than in the historic town of Sintra itself. The beach at Colares is wide and sandy and a good choice for those in search of plenty of facilities and company.
Close by however, is a hidden gem that is well worth discovering. Adraga beach is reached via a winding road that weaves its way down the steep mountain side to a gap below where the cliffs part, leaving a perfect sheltered triangle of pristine sand and turquoise waters. Whilst Adraga beach offers all the charm of a secluded wilderness, it also benefits from a single restaurant, which serves snacks, ice creams and ice-cold beers throughout the summer months.
Ride the waves at Praia Grande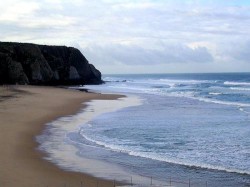 If you are a water sports enthusiast, make Praia Grande a must-visit addition to your Sintra holiday itinerary. This beach is home to several international surfing and body boarding tournaments every year, when some of the biggest names in the sports descend on Praia Grande to ride its giant rollers. Mixed groups will find this a good option as the smaller, more tranquil Praia Pequena next door is the perfect spot for some more tranquil bathing and beach fun.
For a taste of the "natural", head to Ursa. Ursa is considered by many to be the most beautiful beach in Portugal – and not just because of its popularity as a naturist destination!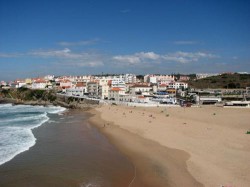 Praia das Maçãs is next on the list as you weave your way down the Sintra coastline. Praia das Maçãs is another stop on the Sintra tramway, which deposits you at the end of your journey onto a broad stretch of golden sand flanked by a cliff which is topped by a selection of bars and restaurants to make your day go with a swing.
Another peaceful cove, Praia da Aguda, awaits at the end of a steep descent of steps down the cliff-side – not advisable for those who suffer from vertigo! There are no facilities at Praia da Aguda but it is a lovely spot for an afternoon of fun and relaxation on an attractive and sparsely populated stretch of sand.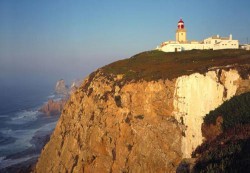 Praia do Magoito is a small resort at the mouth of the Magoito river, offering a wide sandy beach and plenty of restaurants and cafes. Praia do Magoito is busier than some of the other beaches in the area but the extra facilities make it a welcome alternative for a busier day on the sands.
Don't leave without visiting Cabo da Roca, the westernmost tip of mainland Europe. Whilst not a bathing beach in its own right, Cabo da Roca is certainly worth the trip to stand on the last remaining outpost before the Atlantic gives way to the exciting shores of the new world.