The Quinta da Regaleira, or Regaleira Estate is situated in Sintra's historic centre, one of the many breath-taking palaces, castles and ecclesiastical buildings that make up this romantic town's unique architectural landscape.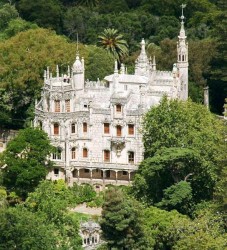 It was built at the beginning of the twentieth century by Antonio Augusto Carvalho Monteiro and is also known as the Palace of Monteiro the Millionaire in homage to his position as one of the town's most famous and wealthy landowners of the time.
The Quinta da Regaleira has an almost ethereal feel, like a fairy castle secreted amongst the trees and flowering plants of a magical winding, verdant landscape. The Regaleira Estate is a designated UNESCO World Heritage Site and is one of the main attractions for visitors to Sintra, Portugal.
The Regaleira family were rich merchants who purchased the land in the late nineteenth century, and it was over the next decade that Carvalho Monteiro set about realising his dream of constructing his own magic hideaway in conjunction with the renowned Italian architect Luigi Manini.
The Quinta da Regaleira embodies a combination of styles including Roman, Gothic, Renaissance and Manueline and it is believed that each section of building incorporates hidden symbols related to Masonry, Alchemy, the famous Knights Templar and the Rosicrucians, a sign of his dedication to his homeland and his family's historical, cultural and commercial importance in Portugal's history, perhaps.
Explore four hectares of landscaped greenery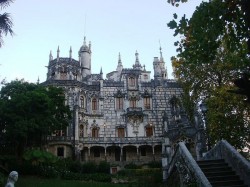 The estate covers four hectares in which architecture and landscaping combine with breath-taking effect to create a mystical place of lakes, grottoes, fountains, wells, streams and stone-built structures. It remained in the family for several decades before being sold twice and finally being acquired by Sintra Town Hall in 1997 and opened to the general public a year later. Declared a public interest property by the Portuguese Ministry of Culture shortly after its opening, The Regaleira Estate's importance went on to be realised by UNESCO who later designated it a World Heritage Site.
The Quinta da Regaleira is a must-visit attraction on any Sintra visitor's itinerary. The Palace itself is beautifully preserved and provides an extraordinary window into the lives of rich Portuguese merchants in the early twentieth century.
The real beauty however, is in discovering the hidden nooks and crannies of the exterior gardens. Hidden amongst the greenery and water features is a series of tunnels that pass beneath the ground, interconnecting many of the primary sights within the four-hectare estate. The turrets that rise from the grounds inspire a series of delightful panoramic vistas out across Sintra and the lush rolling hills beyond.
If you are looking to experience the spirituality of Sintra in Portugal through some of the best landscaped architecture and natural beauty in this beguiling region, the Regaleira Estate is a destination not to be missed while you are here.