Sintra is a town of romance, history, sophistication and royal heritage. It is popular amongst visitors from all over Portugal, southern Europe and beyond, who flock here during the summer months to explore its palaces and castles, adventure in the Sintra-Cascais Natural Park and relax on the beautiful sandy beaches beyond.
Restaurants in Sintra, Portugal reflect the diverse tastes of the town's visitors an whatever your own preferences and budget, restaurants in Sintra are guaranteed to deliver.
Perhaps one of the downsides of a town finding huge popularity as a tourist destination is that prices often rise without necessarily taking quality with them. This does not have to be the case however, and Sintra is a case in point.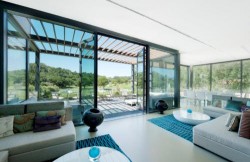 Restaurant Tasca do Chico is a popular and well-known eatery serving a variety of traditional dishes. Hidden away just off the main Praça da Republica up a narrow cobbled street, this is something of a gem in a quiet and unassuming location well away from the hustle and bustle of the other town-centre cafés and restaurants and extremely popular with the locals.
Another town-centre favourite is the Restaurant Dom Pipas. Located close to the station in the downtown area, rather than in the busier tourist spots, this establishment serves good local food at local prices and with a warm, friendly welcome.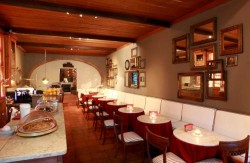 Away from town into the rural area beyond, the Restaurante Colares Velho is located in the restored building of a former grocery store in the rural village of Colares close by. It specializes in serving traditional dishes from this local region of Portugal, made from the very best ingredients grown on the local quintas, or farms.
For something even more rustic, head to the Restaurant Curral dos Caprinos, a traditional restaurant that takes its name and heritage from the old sheep and goat farm which formerly stood on its site. It was originally established in 1974 to complement the farm's operation and it has specialised ever since in traditional lamb and goat recipes cooked to perfection.
For a taste of the sea without the price tags of a marina-front local of sophisticated coastal resorts nearby, head to Praia das Maças, close to the village of Colares and just 15 minutes' drive from Sintra. Here on a small square just behind the seafront, you will find a small but perfectly formed seafood restaurant called Nautilus, which serves excellent fish and seafood at very reasonable prices.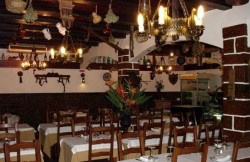 Restaurants in Sintra cater well for special occasions too. Try the quirky Restaurant A Raposa, with its stucco ceilings, tasteful murals and equally tasty home-cooked fare or head to the Restaurant GSpot Gastronomia, which is a byword for creativity, flair and culinary perfection.
Finally, for the ultimate in chic or a major celebration, the Arola Restaurant at the Penha Longa Hotel and Golf Resort is the perfect location.
Nestled amongst the greenery in this five-star golf resort, Arola is the place to eat, see and be seen at lunch or dinner, 365 days a year.
Read More...