Visitors to urban locations generally look for two types of museums to visit during their trip – museums of history and museums of art. Most would agree that the entire town and surrounding area of Sintra itself is one large museum paying homage to Portugal's rich cultural past, displaying some of the most ornate and daring decorative architectural styles and embellishments on the European continent.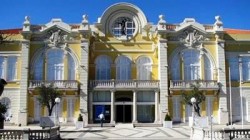 Simply wandering amongst its winding streets, tree-lined walkways and palace walls is a study in period art and architecture on a grand scale. However, the town and surrounding area do offer several galleries of interest in which creative artworks can be admired in their own right within a more formal gallery setting.
Modern art in an old world setting
Few art lovers would come to Sintra and leave without visiting the Sintra Museum of Modern Art. This is a collection of 20th Century European and American works by major artists, known as the Berardo Collection, and is housed in a beautifully restored 1920s building. The Sintra Museum of Modern Art was Portugal's first modern art museum and such has been its success that a further collection has been scheduled to open in the nearby capital, Lisbon.
In addition to its permanent collection, the museum hosts a regular series of temporary exhibitions of paintings focusing on major artistic movements of the last century, including Surrealism, Abstract Expressionism, Minimalism and Pop Art as well as photographic and sculpture collections curated especially for the purpose.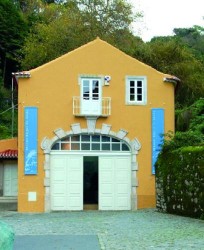 The ethos of the Berardo Collection is to focus on collecting and exhibiting artworks that are essential for the understanding of art in the 20th century.
The Museum of Modern Art also features a "New Gallery" which specialises in showcasing the works of younger, up-and-coming artists from Portugal and beyond.
Sintra's other main art gallery is located in a former watermill dating back to the early 20th century, located in Azinhaga da Sardinha just outside central Sintra. It came into existence in the mid-1970s when the renowned master Pedro Augusto dos Anjos Teixeira bequeathed his entire neo-realist collection of artworks along with many works owned by his father, to Sintra Council.
Anjos Teixeira moved into the watermill and opened it to the public in 1976, turning it into a public-house museum in which he taught sculpture until 1992. The museum has undergone significant renovations and changes since it was opened in order to enhance the visitor experience, but the undisputed quality of the artworks on show remains without question.
A trip back to your childhood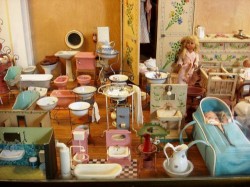 Complete your tour of Sintra museums and galleries with a relaxing walk around the Toy Museum, located close to the historic district in the former building of the Sintra Fire Brigade. The Toy Museum makes for a light-hearted few hours of entertainment for visitors of all ages, fascinating the little ones and transporting the rest back to happy moments of their childhood.
Exhibits include some exquisite dolls houses and a range of Barbies through the ages as well several great examples of the one-time pretender to her crown, Sindy. Boys will love the Second World War tin soldiers and hundreds of planes, trains and automobiles.
If you are in Sintra for a few days or more, it is well worth making the trip to nearby Cascais to explore its cultural attractions. The Casa das Historias Paula Rego is the best-known gallery in this waterfront town, an ambitious project that the celebrated artist, Paula Rego, undertook with renowned architect Eduardo Souto de Moura, to echo the distinctive architectural landscape of the region with a contemporary twist.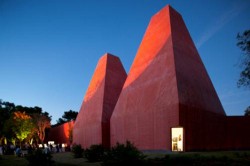 Paula Rego is one of Portugal's most famous modern artists. Having studied at the Slade in London she has enjoyed international success with a series of exhibitions in the UK, Portugal and all over the world including at the Tate Modern and the Saatchi Gallery.
The Casa das Historias Paula Rego features seven rooms of works by Rego herself, along with a selection of temporary exhibitions by various artists. It is a favourite haunt of the young, fashionable art crowd from Lisbon's leading art school, who come to hang out and absorb its creative atmosphere in the exhibition rooms and the little café in the interior courtyard.
The town also offers several small-scale galleries amongst its quirky boutiques which are popular amongst locals and visitors, such as Viragem and Ceramicarte.
Viragem shows regular exhibitions by local, national and international names, many of which are available for sale to individuals or collectors while Ceramicarte features many bold, modern pieces by ceramic artists and sculptors practicing both locally and further afield.