Visiting a foreign country is a treat for the senses, and visiting a vibrant city such as Lisbon even more so. The sights, the sounds, the smells – everything comes together to create a unique experience of your new surroundings, but it is perhaps the tastes that leave you with the most enduring memories of your trip.
A brie baguette by the waters of the Seine, moules-frites in a buzzing Brussels eatery, a giant paella cooked al fresco in the streets of Valencia… So what food memories can you expect to create from your visit to Lisbon, Portugal?
Pasteis de nata are a Portuguese institution. No visit is complete without sampling one of these carefully caramelised custard and sweet pastry tarts. Only in Lisbon, however, can you sample the original, at the Antiga Confeitaria de Belem.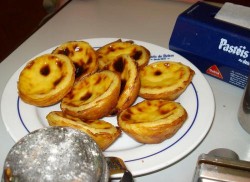 This charming bakery creates them to a secret recipe, sold to them by the church baker more than 200 years ago. Hungry sweet-lovers make the pilgrimage from all over Portugal and beyond to the Antiga Confeitaria de Belem and so, without doubt, should you.
There are all manner of delicacies available in the shops and restaurants of Lisbon's city centre. To stock up, head to one of the specialist delicatessens where you will find queijo da serra, a distinctive cheese made of sheep's milk, alongside almonds, olives and row upon row of colourful sardine cans.
The Algarve may be the place to enjoy grilled sardines on the beach, but Lisbon is the place to buy the designer variety, happily snuggled in their tin.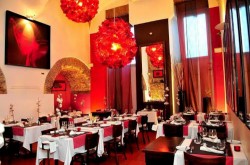 While on the subject of fish, of course no tour of tastes in Lisbon would be complete without a hearty helping of salt cod, or "bacalhau". This is a staple on just about every menu in Lisbon, from contemporary to traditional, and is even available as a pizza topping!
Head to the Sacramento do Chiado (Calcada Sacramento 40 – 46) to sample a range of traditional Portuguese dishes in a stunning historical setting. Set in the former Valadares Palace, which dates back to the 18th century, the Sacramento do Chiado boasts five dining rooms with a café and bar area.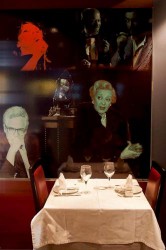 Typical favourites include the obligatory salt cod with corn bread and turnip greens and cod carpaccio, as well as some hearty meat alternatives. This is the place to sample the Carne de Porco a Alentejana, a kind of Portuguese 'surf and turf" consisting of pork slow cooked in clams and served with roast potatoes. Delicious when washed down with a large glass of Alentejo red.
Solar dos Presuntos (Rua Portas de Santo Antao 150) is something of an institution in Lisbon, so what better place than here to sample caldo verde, the distinctive Portuguese soup. This green concoction tastes infinitely better than it looks and sounds. Made from cabbage, onions and potatoes, it is served with a spicy chorizo sausage to add some extra special bite.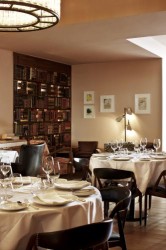 Solar dos Presuntos has been visited by some of Portugal's most illustrious writers, politicians, artists, actors, sportspeople, business people, engineers and scientists over the course of more than 40 years. This vast restaurant is located on five floors and offers a buzzing ambience that is typical of Lisbon's most down-to-earth eateries.
Major advances in gastronomy and fine dining have not left Portugal behind. Belcanto (Largo de Sao Carlos 10) is the place to enjoy haute cuisine Lisbon style, in a delightfully sophisticated setting. Book now if you are due to celebrate a special occasion during your stay in the city.
Located in the popular Chiado district on the fashionable Sao Carlos square by the National Theatre, Belcanto has been transformed into one of Lisbon's 'destination' dining places since it was taken over in 2011 by renowned chef, Jose Avillez.
Choose from a fascinating concoction of sea bass, seaweed and shellfish; pig's trotters in coriander; marinated and braised mackerel; and partridge 'escabeche' for a memorable meal.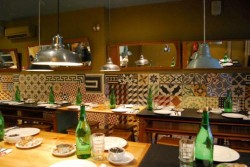 Not all food is formal in Portugal, as Petiscaria Ideal (Rua da Esperanca 100) will testify. Located in the Baixa area, this is a bustling eatery with a laid-back vibe and a focus on tapas-style dining.
Eating at Petiscaria Ideal is the perfect way to sample the very best of Portuguese gastronomy, with a wide variety of dishes on offer to pick and share. Choose from baby cuttlefish, Octopus cooked in tomatoes, seafood rice and pork with mussels (similar to the Alentejo pork dish with clams).
Of course, for many, no meal is complete without wine. Portugal has developed into a force to be reckoned with in international wine production, and Lisbon is the perfect place to sample the best that the country has to offer. We'll drink to that!