The SushiFashion Restaurant is considered by many to be amongst the best Japanese restaurants in Portugal. Located in the cosmopolitan beach town of Cascais, on the Estoril close just a short drive from Lisbon city centre, SushiFashion Restaurant takes pride of place within the doors of the popular Hotel Cascais Miragem.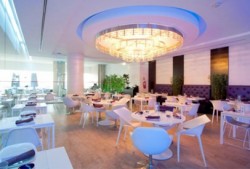 Inaugurated in 2010 and with a capacity for up to 100 diners, the restaurant has a cosy and relaxed atmosphere with modern, neutral décor and comfortable seating, and makes the perfect spot to enjoy a light sushi lunch or dinner that combines the delicious fresh fish of the Atlantic waters off the shores of Cascais with all the flavours of the Orient.
Originally designed as a means for conserving fish and seafood, sushi has evolved into being the most famous of all Japanese dishes and its popularity in Portugal is booming. Here diners can enjoy tasting their way through the varied menu to the sound of the waves rolling in off the Atlantic and some of the best views out to sea in all of the Cascais region.
The menu offers a delightful mix of sushi and maki rolls, marrying exquisitely flavoured fish with deliciously sticky sushi rice, brought together with the traditional accompaniments of light soy sauce, pickled ginger and spicy wasabi paste. Eel, king prawns, salmon, cod, octopus and a whole host of other fish and seafood delights feature strongly on this marine-inspired menu and "purists" – or those watching their calorie intake – can also choose from a range of fresh sashimi, without the characteristic sticky rice.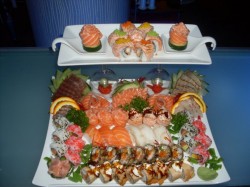 In addition to its cold dishes the SushiFashion Restaurant also offers a range of hot favourites such as miso soup – a delicious broth with noodles and a whole host of surprises inside teriyaki beef and pork and a mouth-watering selection of fried or steamed dumplings.
This is the perfect spot for a quiet meal for two. Try the chef's special sushi platter for a taste of some of the best this restaurant has to offer.
Typical prices are around 25€ for lunch and 40€ for dinner, most major cards accepted. There is plenty of private parking for diners within the hotel car park.
Hotel Cascais Miragem Ground Floor
Av. Marginal 8554
2754-536 Cascais
Tel: +351 214 820 776
Email: terracebar@sushifashion.pt
www.sushifashion.pt
Open for lunch from Wednesday to Sunday, 12.30 – 3.30pm and for dinner from Tuesday to Sunday, 7.30pm – midnight.