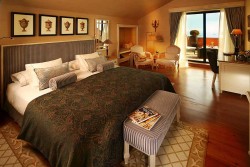 The Five Star Grande Real Villa Itália Hotel & Spa is set in the former residence of Italy's King Umberto II who lived in the property while exiled in Portugal for some thirty years between the 1950s and the 1980s. This five-star luxury hotel is one of the best of its type on offer in Cascais and is ideally situated right at the waterfront close to the lively and sophisticated town, offering panoramic views out to the Atlantic Ocean from almost all the hotel bedrooms and communal areas.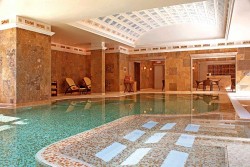 The Grande Real Villa Italia at Cascais offers a total of 124 rooms including ten junior suites, eight full suites and three penthouses. The décor is charmingly minimalist without compromising on its luxurious feel, the blue and grey hues of the rooms echoing those of the Ocean beyond, while the suites have a hint of the warmer tones of early sunset. Most rooms offer a sea view and those that do not give out to the charming landscaped gardens of the hotel.
The rooms are equipped to a high standard as you would expect from a hotel of this type. All have hot and cold air conditioning, three telephones with digital and analogue lines, broadband internet access, cable and pay-per-view TV, radio, fully stocked minibar, in-room safety deposit box, hairdryer, work desk and 24-hour room service.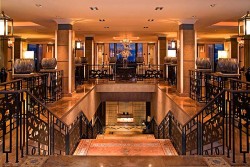 A range of massage and beauty treatments is on offer in the spa of the Grande Real Villa Italia while the more energetic will enjoy a workout in the well-equipped gym or a few lengths in the outdoor pool. Little people are well taken care of with a dedicated outdoor play area, children's pool and even pre-bookable babysitting, making this the perfect choice for families as well as for business guests who will benefit from the business centre and conferencing facilities. A games room, library and reading complete the facilities along with two restaurants, a bar and a pool bar.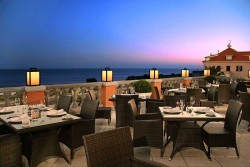 The Cascais area is famous all over Portugal and beyond for its sophistication and fun-loving atmosphere, providing excellent shopping, restaurants and beach fun right on the doorstep. The hills and castles of the magical town of Sintra are just a short ride away and make for some memorable sightseeing and for guests wanting to explore the Portuguese capital, it takes less than 30 minutes to arrive right in the heart of Lisbon.
Grande Real Villa Italia Hotel & Spa – Cascais
Rua Frei Nicolau de Oliveira, 100
Cascais, Portugal
2750 – 319
Tel: (+351) 291 724 257
Fax: (+351) 291 762 171
Email realvillaitalia@hoteisreal.com
www.realhotelsgroup.com