The Bay of Cascais has long been associated with the sea and the brave explorers from Portugal's Age of Discovery. However, it was not until 1999 that the current formal marina project was realised, transforming the town from a cosmopolitan summer resort to a world-leading sailing and marine sport destination.
The town's continued link with the sea and with Portugal's royalty was firmly sealed by Portugal's last King, D. Carlos I who chose the town as his summer residence. He was a keen oceanographer and founded one of the world's most important oceanographic laboratories here. The town has since grown to be something of a Mecca for sailors, tourists and the rich and famous from all over Portugal and beyond.
Cascais Marina offers 650 mooring berths accommodating boats of up to 36 metres plus an outer quay for "megayachts", a technical area for large-scale maintenance projects and a sophisticated helipad.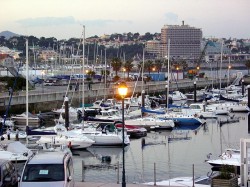 One of the harbour's most distinctive features is its 2000m2 Events Platform, which position it as a world-class location for international nautical events. It was here that the ISAF Sailing World Championship was held in 2007, accommodating 1700 sailors from 74 countries along with spectators, press and many of the world's sailing elite.
Other major events to be hosted here include the America's Cup World Series 2011, the 49er European Championship, Portugal Match Cup and Round Portugal Sailing Tour amongst many others. Since its inauguration the marina at Cascais has sealed the town's royal links, drawing visits from many notable European names including King Juan Carlos I of Spain, King Constantine of Greece and King Harold of Norway.
Cascais Marina is surrounded not just by facilities for sailing aficionados but also by restaurants, shops and bars, making it a sophisticated destination both for water enthusiasts and those who prefer to keep their feet firmly on dry land.