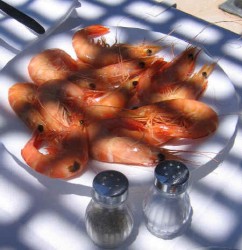 Established for many years, Furnas do Guincho Restaurant occupies an enviable position right on the waterfront of the Atlantic coastline in the heart of the ruggedly beautiful area that is Guincho beach, in the Cascais region of Portugal.
The restaurant has been fully refurbished recently to ensure that its interior continues to match the exquisite beauty of its location. There is a strong emphasis on design at the Furnas do Guincho Restaurant with plenty of glass and natural light creating a wide, open atmosphere whilst at the same time inviting guests to relax into cosy, intimate corners.
The décor is full of warm colours whilst retaining a sophisticated vibe with warm reds and browns combining with high quality wood furnishings to great effect. The outdoor terrace offers spectacular views out to sea and across the rugged rocky outcrops and sandy cove of this sought-after Cascais location and the Boca do Inferno, Portugal's most westerly point is just a stone's through away and well worth a visit.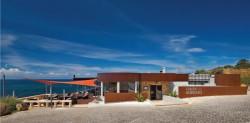 The Furnas do Guincho Restaurant is a fish and seafood-lovers' delight. Diners can choose their fish from the ice-packed trolley displaying the day's catch or from the restaurant's aquarium, full of lobster and crab of all sizes. Much of the fish and seafood is priced by the kilo, enabling diners to eat as much or as little as they like by selecting a size to match their appetite. Huge prawns and tasty crab are cooked a number of ways while the swordfish makes a tasty and great value alternative to some of the pricier house specials.
A visit to the Furnas do Guincho Restaurant would not be complete with sampling the "percebes" or barnicles, one of the house specialities. A fellow diner or the friendly waiting staff will be pleased to demonstrate how to eat them if this is your first time! The wine list offers a wide variety of tasty whites to complement the food as well as some well-chosen reds to please the meat lovers, who are also well catered for here.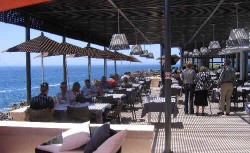 This is something of a destination restaurant and can get busy, especially at weekends when large numbers of premium-brand sports cars and four-by-fours roll up carrying a moneyed clientele from Lisbon and the nearby Cascais luxury resort hotels. Do not let that put you off however, though it is worth bearing in mind that booking is advisable. Expect to pay around 50 euros per kilo for fish or seafood though there are some low-cost alternatives, but it is worth the trip for a feeling of being somewhere very, very special.
Estrada do Guincho
38.721322
9.478118
Portugal
Tel: +351 21 486 92 43
Fax: 351 21 486 90 70
Email: furnas.guincho@mail.telepac.pt
Web: www.furnasdoguincho.pt