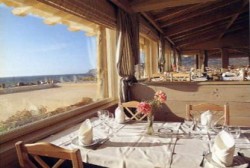 Perched right at the edge of the dunes of the Guincho beach, close to the cosmopolitan town of Cascais in Portugal, is the Porto de Santa Maria Restaurant. Described as the "place where the sea and the land meet" the Porto de Santa Maria Restaurant perfectly manages to reflect its geographical location in its delicious menu that combines the very best of freshly caught Atlantic fish and seafood with meat and poultry dishes inspired by centuries of Portuguese culinary tradition.
Established in 1947, the Porto de Santa Maria Restaurant is one of the longest-surviving eateries in Guincho and is something of an institution in the area. However that is not to say that the owners have rested on their laurels and the restaurant is highly deserving of its Michelin Star, a reflection of its 65 years at the forefront of gastronomy in the area.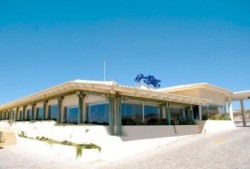 Despite its sophisticated accolade, this Cascais restaurant aims to be a home from home, somewhere that diners can relax and enjoy their meal and leave behind the stresses and strains of every day life. It is popular with couples, families and also as a location for a business lunch – after all, what better place to close a deal than in an award-winning restaurant whose emphasis is on the pursuit of excellence?
Fish is hand-selected daily from the local fish market to ensure the freshest possible ingredients are used. House favourites include the lobster carpaccio starter, a delicately flavoured delight, mussels served either natural or in Spanish style, crab and clams served four different ways and grilled tiger prawns. Fish and seafood are priced by the kilo for main courses, giving diners the flexibility to order as much or as little as they like to suit the size of their appetite.
For something special order a mixed seafood plate to share or opt for the "Robalo ao Sal".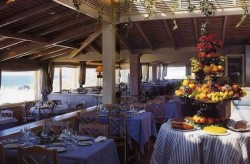 The Porto de Santa Maria is renowned for its wine cellar, which is full to bursting with rare vintages as well as younger wines, carefully selected to enhance the delicious offerings on the food menu. The wine list includes bottles from all over Portugal as well as Spain, Argentina and Australia, with over 1000 to choose from!
If you are staying in Cascais or the local area and are in search of a special meal to leave you with happy memories of your visit, this is the perfect option. Expect to pay between 15 and 20 euros per starter with prices per kilo ranging between 50 and 100 for main courses. This is a popular destination and booking is advisable.
Estrada do Guincho
2750-640 Cascais Portugal
Tel: + 351 214 879 450
Fax: + 351 214 879 458
www.portosantamaria.com