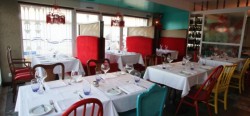 Hemingway Restaurant makes a fun and quirky addition to the bar and restaurant scene in Cascais, Portugal. Located on the top floor right on the marina of this cosmopolitan beach city, Hemingways was the brainchild of Telma and Pedro Vaz Moura who rescued it from abandonment and transformed it into one of the most fashionable destinations in Cascais.
Hemingway Restaurant really is more than just an eating place, it is both a meeting place for friends and a romantic hideaway for couples. Furthermore it does not just serve food but has also earned a reputation for serving a wide range of delicious, natural fresh fruit juices and a specialist selection of artisan teas such as orange flower, jasmine and rosemary.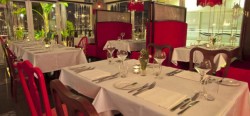 The setting is idyllic, with a modern, sophisticated vibe yet with décor that creates a warm and welcoming ambience that draws you in and envelops you in its cocoon until the doors close in the early hours. Friday and Saturday nights feature live DJs and are popular amongst a fun-loving, cocktail-drinking crowd without alienating diners who come simply to enjoy good, fresh food and soak up the venue's upbeat atmosphere.
Chef Igor Martinho joined the restaurant in 2009 and is largely credited with adding the current twist to its culinary offerings. The focus is on international cuisine with a twist of modern Portugal. Try the hunters sausage with quails egg, carpaccio or scallop with mango and coriander, octopus crostini with red pepper, tomatoes and coriander or the fish soup with prawns to start your meal, all of which embrace the locally sourced, fresh produce.
Popular mains include linguine with deliciously fresh lobster, tender steak cooked to your taste, seared scallops on wild mushroom risotto or tender veal on a bed of pak choi with a ginger, carrot and orange sauce.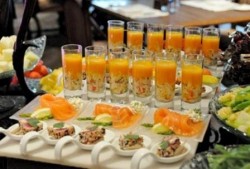 It is hard to say whether it is the food or the attentive service that makes Hemingways so popular amongst Cascais locals and visitors. Pedro ensures his team are well trained and well informed, with the result that they are able to add real value to your meal with suggestions from the menu and the extensive wine list.
If you are only in Cascais for one night during your time in Portugal, Hemingway Restaurant makes the ideal spot for an enjoyable meal in a central marina-front setting.
Hemingway Restaurante
Marina Cascais, 58 – 1º
2750-800 Cascais
Portugal
E-Mail: hemingwaycascais@gmail.com
Web: www.hemingwaycascais@gmail.com
Open Monday to Saturday from 3pm to 3am and Sundays for brunch from 12pm to 5.30pm.