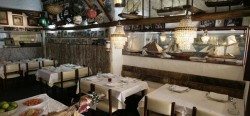 Located between the sea and the fishmarket, O Pescador Restaurant has been established in the cosmopolitan beach town of Cascais, Portugal, since 1964. Formerly a traditional fisherman's tavern, situated right in the heart of the Old Town, O Pescador has undergone a transformation since its formative days and is now a sought-after destination on the itinerary of many visitors to the area.
O Pescador Restaurant is as famous for its wine cellar as it is for the delicious fresh seafood it serves. In fact for many the extensive wine cellar is the main reason for their visit – as indeed it was the raison d'etre of its founder, Ramiro Pinto. Famiro was a passionate wine connoisseur who set about building a well-stocked cellar of vintages from all over Portugal and beyond. As the story goes, his cellar reached such proportions that he declared that he would have to open it up to the public as it was far too large for him ever to drink its contents by himself. And O Pescador was born.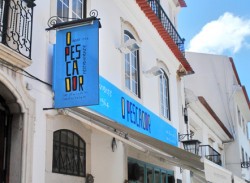 As you would imagine, given the restaurant's past history, the wine list continues to feature all manner of young and vintage wines from all over the world, from truly rare bottles to deliciously quaffable young local offerings. With a list of this calibre, one could be forgiven for imagining that the food would not be able to match its quality, but that could not be further from the truth.
A talented chef prepares light, modern dishes with a delicate touch and a real understanding of flavour. Aided by the fact that, thanks to its marina location, Cascais offers some of the best fish and seafood available, freshly caught in the Atlantic waters off shore, there is a real emphasis on fresh ingredients and good quality which is guaranteed not to leave guests disappointed.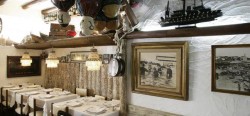 Try the Algarve oysters, full of the flavours of the sea, for a quality start to your meal. Other favourites include carpaccio of tuna and swordfish and octopus. Lobster, freshly hand picked from the lobster tank is a favourite for main course along with red prawn tossed with coriander and thin slices of garlic or, for meat lovers, tenderloin steak in Dijon mustard sauce.
Eat outside in the little courtyard for an al fresco experience on a balmy summer night or choosy a table indoors for a cosy, intimate meal for two at any time of year.
O Pescador Restaurant is the perfect spot for a modern and tasty seafood meal in the heart of the romantic seaside town of Cascais. Expect to pay between 25 and 30 euros for a main course and budget for a good bottle of wine.
Rua das Flores, 10-B
Cascais 2750-348
Tel: 214832054
E-mail: reservas@restaurantepescador.com
www.restauranteopescador.com
Open from Monday to Saturday from 12pm to 3pm and from 7pm to 11pm. Closed on Sundays.