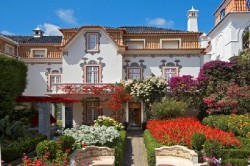 Casa da Pergola, or Pergola House is a delightful boutique hotel situated in a beautifully restored Mediterranean-style mansion right in the heart of Cascais on the famous Estoril coastline. Run by father-and-daughter owners Manuel and Patricia Gonçalves, the house and its twin neighbouring property have been in Patricia's family since the early twentieth century when they were bought by Patricia's great grandfather, one each for his two daughters.
The houses became a reflection of the girls' different personalities, one (Patricia's grandmother) exuberant and bubbly who chose to live immediately in her new home and the other quiet and reserved who chose to use hers as an occasional country retreat. As a house that has always been full of laughter, it seemed natural that after his mother's death Manuel, with the help of his daughter who already specialised in hotel management, would open it up for the enjoyment of future generations of visitors to the wonderful town of Cascais, and so the Casa da Pergola hotel was born.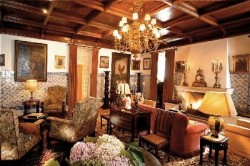 The Pergola House sits in the heart of the Pergola garden, a landscaped area with two showings of flowers ever year, to which Manuel dedicates much of his time and energy to planning, nurturing and maintaining. The gardens are a delight not just for the guests of the house but for anyone staying in this corner of Portugal who is fortunate enough to pass by and enjoy the sights and scents given off by the carefully grown blooms.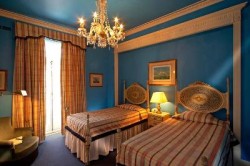 The Casa da Pergola has eight double rooms and two singles, most of which offer views to the front over the beautiful greenery and beyond. As a traditional manor house the rooms vary in size but all are charming, fresh and pleasantly decorated. There is a cosy living room with fireplace and TV on the first floor where port wine is served to guests in the evening, a lovely additional touch by the owners that helps to make their guests feel welcome in their home from home.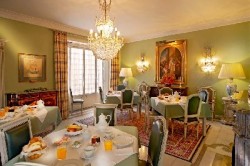 A tasty buffet breakfast is served from 8am to 10am on the ground floor or, weather permitting, on the garden terrace to the accompaniment of the heady scents of the flowers. Home-made jams and a selection of freshly baked breads and croissants make a lovely start to a day of sightseeing in Cascais, Estoril, Sintra or indeed Portugal's capital, Lisbon, which is just about half an hour away by direct train from Cascais station, right on the doorstep.


Casa da Pergola Hotel Cascais
Avenida Valbom, 13
2750-508 Cascais
Tel: +351 214 840 040
www.casadapergola-cascais-lisbon.com