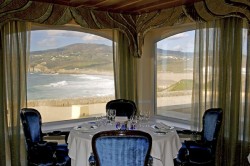 The Fortaleza do Guincho is a luxury five-star hotel located in a renovated fortress close to Cascais, Portugal. Perched on a rocky outcrop, the fortress dates back to the seventeenth century when it was built to strategically guard Portugal's western coastline, close to the country's most westerly point at Cabo da Roca.
The hotel offers one of the most unique settings imaginable, nestled above the sands and wild rocks of this beautiful part of Portugal. Located several kilometres from the cosmopolitan town of Cascais, there is a feeling of isolation about the Fortaleza do Guincho, while at the same the ambience conveys strongly that it is at the heart of something very special.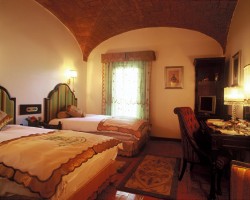 The hotel comprises eight courtyard rooms, sixteen superior rooms and three junior suites, all tastefully decorated in opulent style befitting of the fortress building in which it is set. The courtyard rooms are nestled in the hotel cloisters and offer sea views via a small medieval-style fortress window.
The superior rooms are located on the first floor and offer dramatic views out across the Atlantic and Cabo da Roca, some with closed balcony and period chaise longue on which to relax and drink in the startling uniqueness of the surroundings. Located at the front of the hotel on the first floor, the three junior suites are the epitome of comfort and luxury with unbroken, panoramic views out to see from wide, open terraces. All rooms come with satellite TV, minibar, telephone, hair dryer, safety deposit box and wireless internet connection as standard.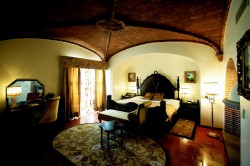 One of the major draws of the Fortaleza do Guincho is its gourmet restaurant run by three-Michelin-starred chef Antoine Westermann. Classically trained in the finest French cuisine, Antoine earned his first accolades in Strasbourg before coming to the Fortaleza do Guincho to merge his classic style with the best of Portuguese regional cookery.
Open for lunch and dinner, the restaurant is a favourite amongst locals, guests and many others who travel in daily from Lisbon and beyond to savour Antoine's delicately presented dishes washed down with a carefully selected wine from the award-winning wine list. The restaurant offers unbroken views out across the Cabo da Roca making it the perfect location for a celebratory meal. Gala dinners for up to 110 guests can be accommodated in the Medieval Room, ensuring that its delights can be enjoyed by many.

If you can tear yourself away from the hotel's beautiful surroundings, Sintra and Cascais are just a few kilometres away as are some of the best golf courses in the area. Car hire is recommended and there is plenty of guest parking at the hotel, although private transfers and taxis are also available if required.


Fortaleza do Guincho Cascais Hotel
Estrada do Guincho
2750-642 Cascais
Portugal
Tel: 214 870 491
Email: reservations@guinchohotel.pt
www.guinchohotel.pt