Nightlife in Coimbra is lively and varied, with club and bar owners kept on their toes by a demanding student population. Many of the city's popular nightspots are focused on the youngsters who are here studying at the University of Coimbra.
However, in a city with an emergent commercial centre and a large year-round tourist population, there is plenty to suit every taste.
Cosy restaurants for a romantic meal a deux; intellectuals' cafés; lively cocktail bars; gastro breweries; jazz and Fado venues; classical music recitals; stage performances; and cinema screenings — whatever you are looking for from nightlife in Coimbra, it is unlikely you rest disappointed.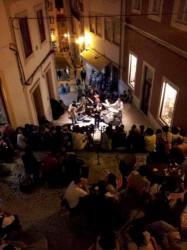 To immerse yourself in the world of students and intellectuals, head to the bars around the Old Cathedral where the university fraternity congregate to discuss academics, politics, philosophy… And the price of a glass of beer, of course. With so many establishments to choose from, this is the perfect place for bar hopping, ensuring you can never get bored of your surroundings.
The ultimate intellectuals spot sits perched on the Praça 8 de Maio, in a converted church dating back centuries. Café Santa Cruz was opened in 1929 and has played host to some of Portugal's leading academics, intellectuals, poets, authors and artists. The huge vaulted ceiling, stained glass windows and heavy marble tables lend a feeling of grandeur to this space and cannot fail to impress.
Café Santa Cruz offers an outdoor seating area, which is a must in good weather, providing views across the square and the Santa Cruz Church. It is also a great place for people watching, which can become more and more fun as the early hours approach.
Bar Quebra Costas is located between the medieval old town and the newer downtown area. The Quebra Costas is the name of the hill that joins the two areas and Bar Quebra Costas is the perfect spot from which to watch people pull themselves up the steep cobblestoned slope as you sip on a nice cool beer in the early evening sun to the sound of some chilled out tunes.
The bar has a pleasant terrace area overlooking the street and a quirkily decorated interior. Established in 1984, it has become a firm favourite on the Coimbra nightlife scene. If beer drinking is your thing, head to Praxis to taste the delights of Coimbra's leading independent brewery.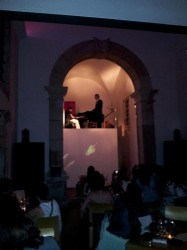 Praxis began brewing in 2001 and expanded into a gastro-brewery in 2009, with the opening of its bar and restaurant. This is the perfect spot for an al fresco tipple on a summer's evening — or in fact all year round, thanks to the covered and heated terrace.
Opt to sit inside and you'll have a birds' eye view of the huge fermenting capsules and brewing paraphernalia through the large glass windows that separate them from the public area. With tapas, steaks and burgers to soak up the amber nectar and a beer takeaway service available, this makes a great choice for a relaxed drink and bite before heading back to your base.
For music lovers, there are many options for enjoying the nightlife in Coimbra. A Capella is another bar and café that was established in a former church — in this case, a chapel that was constructed back in 1364.
These days, A Capella specialises in Fado and stages performances nightly with some of the city's most famous Fado musicians. The acoustics need to be heard to be believed.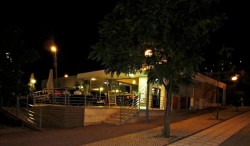 Partying is popular in Portugal and, thanks to the student population, most of the clubs in Coimbra are open five nights a week, sometimes even seven. What's in and what's out changes with the seasons and from year to year, but there are several that usually make the grade, such as Passerelle or Feito Conceito. Passerelle is open nightly and tends to get busy after 10.30pm, staying open well into the early hours and, at the weekends, dawn.
Feito Conceito is a hidden gem for music lovers, with regular DJ sets playing their latest mixes. The entrance is via the Tabacaria Pavao downstairs, which opens up into a main bar area with a number of back rooms with high ceilings and funky décor. For great drinks and cocktails at low prices, this is a popular choice.
If you would prefer your nightlife in Coimbra to be a little more sedate, why not head to a performance at the university theatre before decamping to the attractive upstairs lobby bar for a drink or two before heading home.