Café Santa Cruz is the most famous coffee house in Coimbra and arguably in the whole of north central Portugal. Opened on 8th May 1923, in honour of its location in the Praça 8 de Maio (8th May Square), it has gone on to become something of an institution in the city for almost a century.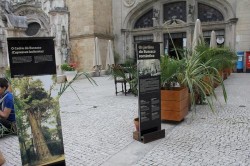 Café Santa Cruz is located in a building dating back to the 16th century, which was originally built as an auxiliary chapel to the Santa Cruz Cathedral, with high vaulted ceilings and opulent design, lending a distinct feeling of history and grandeur to the building.
The interior is a mass of ribbed stone arches, stained-glass windows, delicate carvings and marble. The waiter's station is grand enough to be used as an altar in its own right, with a heavy marble top on which to balance trays of drinks for the waiting hoards.
The Café Santa Cruz made a name for itself through the decades as a meeting place for intellectuals and the brightest students who came to study at the University of Coimbra from all over Portugal and beyond.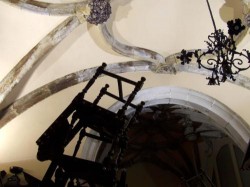 Today it still retains this air of being somewhere that important, artistic things happen. It is used for lectures, poetry readings and art displays all year round, ensuring it is packed to the rafters by day and by night with visitors and locals alike.
Perhaps the most exciting time to visit the Café Santa Cruz is when it is hosting one of its famous Coimbra Fado sessions. These take place on a regular basis, attracting music lovers from far and wide to listen to the dulcet sounds of Portugal's famous musical tradition.

Open from Monday to Saturday from 8am to 2am in the summer and until midnight in the winter, this is the perfect place to see and be seen in Coimbra. Sandwiches, snacks, fresh coffee, local beer and a wide selection of wines and spirits make will keep visitors happy for many a visit to the Café Santa Cruz.
Café Santa Cruz
Praça 8 de Maio
3000-300 Coimbra
Portugal
Tel: +351 239 833 617
Email: geral@cafesantacruz.com
www.cafesantacruz.com