When it comes to choosing your accommodation in Coimbra, Portugal, there are plenty of options in and around this historic city to suit your taste and budget. Whether you are looking for small and friendly or lots of amenities, a city-centre location or a quiet spot in a rural area, there are plenty of hotels in Coimbra that will offer just what you need.
Riversuites Hotel Coimbra is one of the newest additions to the city's hotel selection and makes a great choice for guests in search of a brand-new, modern hotel right in the heart of the action. Located just 250 metres from the Rio Mondego, the Riversuites provides excellent access to the attractions in Coimbra's city centre.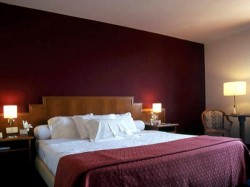 If modern is your thing, consider the Tryp Hotel Coimbra, one of the more contemporary hotels in Coimbra, located just 100 metres from the University Hospital. If your tastes are more traditional, check out the Hotel Astoria Coimbra, a three-star residence located in arguably one of the best positions in the city, right on the banks of the River Mondego and just metres away from the Largo da Portagem and Santa Clara Bridge. This is a fine example of period architecture from the turn of the century and many art deco features remain.
For a family welcome, consider the Oslo Coimbra Hotel, located close to the old city walls. For views, this is one of the better hotels in Coimbra, as thanks to its positioning almost every room is treated to panoramic views over the rooftops or to the famous university buildings.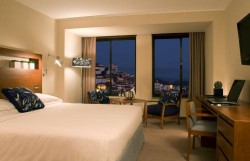 There are a number of four and five star options for accommodation in Coimbra. The four-star Hotel Tivoli Coimbra is a popular choice for visitors in search of comfort and a touch of luxury during their time in Portugal.
With many services, facilities and leisure amenities it is a popular choice with families, as well as with couples and business travellers. For even more luxurious accommodation in Coimbra, head for the Vila Gale Coimbra, a purpose built hotel right in the heart of the historic centre.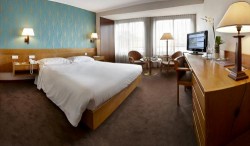 Discovering Portugal's cities first hand is a delight, but some visitors prefer to book their accommodation in Coimbra a little further away from the action. If this sounds like you, consider the Pousada Condeixa-a-Nova, a former palace that was converted into a luxury pousada in 1993.
If luxury is your desire, make the Quinta das Lagrimas Hotel your destination. As a member of the Small Luxury Hotels of the World group, it certainly knows the meaning of the word. Home to a Michelin-starred restaurant, it is worth a trip out of town to visit, even if you decide not to make this your base for your stay in Coimbra, Portugal.