The Biblioteca Joanina, or university library, is one of the most visited buildings in Coimbra's university complex. Construction was started in 1717 at the instigation of King Joao V, after whom the library is named, and was completed in 1728.
Until its construction the old library had been moved constantly from one location to another, its collection expanding all the time and with no building suitable or large enough to house it.
Designed by renowned architect Gaspar Ferreira, the Biblioteca Joanina is comprised of three large rooms lined with attractive wooden bookstands, divided by small corridors which are decorated with the coats of arms of each of the university's faculties.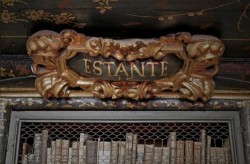 This building in Coimbra's university complex is a fine sample of baroque architecture and a superb example of a collection of talented artists working together and collaborating to create one of the most extraordinary libraries in the world. As with many historic buildings of this age, the library has been renovated and embellished several times during its long history.
Today the university library houses some 250,000 books dating from the 12th to the 19th centuries, most focused on law, philosophy and theology. Having reached its capacity, it became necessary in the mid 20th century to find a location for a new library to house the later tomes, from the late 19th century onwards.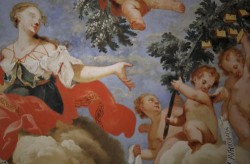 The solution was to adapt the building of the Faculty of Letters (usually the English Faculty in English universities) and a building project was begun in 1952, completing some ten years later. The architect Alberto Jose Pessoa was responsible for this project, assisted by Horacio de Moura and Fernando Castelo Branco.
It is to the Biblioteca Joanina, however, that most visitors to Coimbra, Portugal, head when visiting the old university complex. The library is a sight to behold for its bold exterior and its rich Baroque embellishments that adorn the interior.
As you enter, your eyes are treated to a feast of red and gold, of arches, carvings and gilded patterns.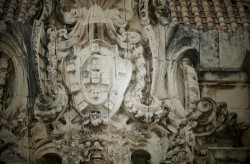 Don't miss the beautiful painted panel ceilings, which were undertaken by artist Antonio Simoes Ribeiro and Vicente Nunes, both of whom were brought in from Portugal's capital, Lisbon, in order to undertake the project. The Chinese motifs are another must-see attraction. Adorning the bookshelves, these motifs were painted by artist Manuel de Silva and took more than three years to complete.
Steps leading down from the grand main door will lead you a room that contrasts starkly with the opulent grandeur of the main rooms.
Located here in the basement is a small prison, to which scholars and students were sentenced for confinement when convicted by the university's "in-house" courts of law.
The library is open for tours and visitors throughout the year; however given that it continues to play an active role in a modern-day seat of learning, it is of course advisable to check opening times and dates before you visit.