As one of Portugal's most famous cities, Coimbra offers an almost overwhelming selection of attractions to visit while you are here. From ecclesiastical buildings to ancient universities, from Roman remains to river cruises, there is so much to see and so little time to do that, it is worth doing your homework before you leave to make sure you take in all that Coimbra has to offer.
One of the key attractions in Coimbra is the Old Cathedral of Coimbra, which is located right in the heart of the upper area of the city, nestled in the steep narrow streets of the university complex.
It was built in the 12th century following the creation of the Kingdom of Portugal by its first king, Afonso Henriques, and his declaration that Coimbra should be its capital. It is a must-see not just for its historical importance but also for its grand Romanesque architecture.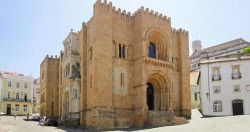 Attractions in Coimbra include many such ecclesiastical buildings. Don't miss the Santa Cruz Church, which sits right in the centre of the Praça 8 de Maio and is the resting place of King Afonso Henriques and also his successor, Sancho I. The church is both a national monument and a National Pantheon.
On the other bank of the Mondego River, you will find the Santa Clara-a-Velha Monastery, a Gothic building dating back to the 14th century whose remains have been sensitively excavated and renovated over the course of more than a decade.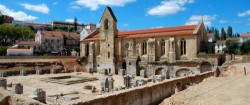 A tour of the attractions in Coimbra would not be complete without a visit to the old university. Founded in Lisbon in 1290 and transferred to Coimbra in 1537, it is the oldest university not just in Portugal but in the whole of Europe. The university campus is spread throughout the upper old town and provides a wealth of architectural marvels and academic oddities to be admired.
Don't miss the Biblioteca Joanina, the university library which houses over 250,000 books dating from the 12th to the 18th century.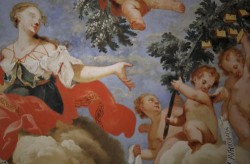 The university Science Museum is also housed nearby and is well worth a visit, as is the Machado de Castro Museum, housed in a former Bishop's Palace, which in turn was erected on top of a former Roman Forum.
No trip to Coimbra would be complete without seeing Conimbriga, one of the largest and most important Roman settlements in the country. Conimbriga will transport you 2000 years back in time to a world we can only imagine.