Set on a cobbled street in the heart of the old town of Braga, Portugal, is the popular Cozinha da Se Restaurant. As its name would suggest, the Cozinha da Se Restaurant is located close to the Cathedral (or Se Cathedral), one of the primary buildings of interest for any visitor to Braga.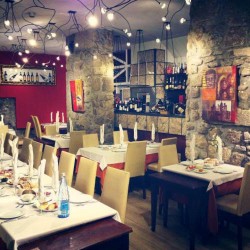 Many of the other major sights are located just a short walk away, and this restaurant is the perfect place to relax after a long day's sightseeing, immerse yourself in the atmosphere of old-world Portugal, and enjoy a tasty meal.
Cozinha da Se Restaurant is run by owner and chef Ricardo Pereira, who has spent the past few years developing his vision of a traditional restaurant with a contemporary feel that embraces all that is good about the gastronomy of the Minho region of northern Portugal.
His efforts were recognised in 2013 with the addition of the restaurant in the Michelin guide for the first time, and we must hope that the reasonable prices and excellent quality will go from strength to strength as a result.
The dining room seats just 45 people on a collection of small and larger tables dotted throughout the nooks and crannies of this quirkily laid out space. The layout makes for a private, cosy feel despite the fact that the room in itself is not large.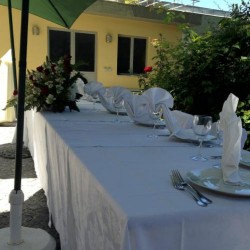 Exposed brick walls and pillars are juxtaposed with hard wood floors, wrought-iron work, ambient lighting and a selection of bold, modern artworks by Braga's local artists. The chairs are well upholstered and comfortable, making this a good choice for a long, leisurely lunch or drawn-out evening meal.
There are some unmistakeable touches of Portugal, including a large cured ham perched on the bar area and a huge collection of Portuguese wine bottles, both full and empty, showcasing the country's rich viticulture-esque tradition in a uniquely artistic way.

Do say yes to all the little starters you will be offered when you arrive, as they are a taste sensation in themselves. A free glass of sparkling wine is also frequently offered as an aperitif on arrival. This is an extremely popular restaurant, so booking is recommended. Closed on Mondays. All major credit cards accepted.
Cozinha da Se Restaurant
Rua D. Frei Caetano Brandao, 95
4700-031 Braga
Portugal
Tel: +351 253 277 343