The imposing Bom Jesus do Monte (Good Jesus of the Mount) sits just outside the city of Braga, Portugal. Perched high on a hillside in Tenoes, some 381 feet above the ground, it is accessed by funicular, car or on foot via a magnificent 116-metre stairway.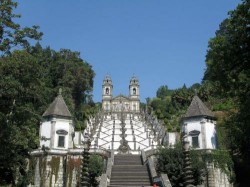 There has been a building on the site for centuries, dating back at least as far as 1373, when a chapel was erected in dedication to the Holy Cross. It was rebuilt twice during the 15th and 16th centuries, and again during the 17th century, in 1629, when a pilgrimage church and six chapels were built, dedicated to Bom Jesus (Good Jesus). The building of the present sanctuary began during the 18th century, erected to a neoclassical design by the renowned architect Carlos Amarante, under the order of Rodrigo de Moura Telles, then Archbishop of Braga, whose coat of arms is located above the gateway.
The Sanctuary is an important site for pilgrimage, with pilgrims walking the sacred way, the "stations of the cross" for contemplation and penance since 1811. These days, it is also a hugely popular tourist attraction in the area, offering tranquillity, beautiful architecture and sweeping views out across the city of Braga and to the beaches of Viana do Castelo and Esposende.
The Sacred Way is a series of Baroque staircases laid out in a zigzag shape, working its way up the several hundred metres to the top of the hill. It is dedicated to the five senses (sight, smell, sound, touch, taste), each of which is represented by a different fountain, along with a further fountain dedicated to the wounds of Christ and three more dedicated to the virtues.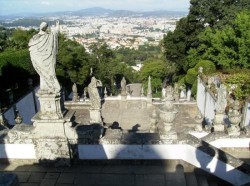 If the idea of climbing several hundred metres, whether on hands and knees or on foot, sounds tiring, the funicular makes for a good alternative. It dates back to 1882 and was the first funicular to be erected on the Iberian Peninsular, linking the Sanctuary with the main city of Braga.
Bom Jesus do Monte comes alive during the week before Easter, known in Portugal as Holy Week, or Semana Santa. This is when pilgrims flock to climb the Baroque stairway on their hands and knees in penance, as they do once more during Whitsun, or Pentecost, which is celebrated at the end of May, some six weeks after Easter.
Whatever time of year you visit, Bom Jesus do Monte should be on your list of things to do during your trip to Braga, Portugal. The staircase and grounds are filled with attractive gardens, hidden grottoes, miniature chapels and sculptures, making this the perfect sanctuary from everyday life and a pleasant place to while away a morning, an afternoon, or indeed the entire day.