Aveiro, Portugal, is one of the country's "undiscovered gems" and provides the perfect alternative — or accompaniment to — a visit to the better-known urban centres of Lisbon or Porto. Whether you spend one day in Aveiro, a week, or longer, there is no shortage of things to do in Aveiro to keep you occupied for the duration of your stay.
Aveiro, Portugal, offers the perfect combination of urban heritage and culture, and relaxed beachside retreat. Wander through the narrow streets of the old quarter and explore the network of canals that cross-cross the city. Take a trip on a moliceiro to admire the beautiful pastel-coloured art nouveau houses façades that line the waterways, explore Aveiro Museum, discover important ecclesiastical buildings and sample the gastronomic delights that await at every turn.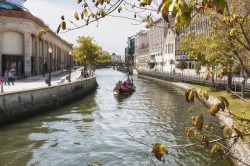 Eating in Aveiro, Portugal, is a delight, with a wide variety of restaurants serving the freshest fish and seafood. And when you have had your fill, take to the streets once more to experience shopping in Aveiro, with a visit to the city's quirky, independent boutiques.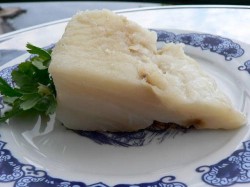 Some of the best shopping in Aveiro in fact takes place far from the city centre, in the suburb of Ilhavo, which is home to the Porcelain factories, including the famous Vista Alegre brand. If you are travelling with children in Aveiro, this is a must-visit attraction, providing an opportunity for the little ones to learn all about the porcelain industry and see the factory in operation, before choosing a special memento of their visit at the factory gift shop.
Whilst travelling in cities can sometimes be a challenge with little people in tow, children in Aveiro are well taken care of thanks to the nearby beaches at Barra, Costa Nova and Sao Jacinto. Here they can run off their energies on the sand and bathe in the turquoise waters before you head back to the hustle and bustle of the city.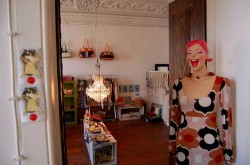 Even if you have just one day in Aveiro, do try to stay long enough to sample a bit of nightlife in Aveiro as a contrast to simply seeing the city by day. Nightlife in Aveiro is centred around the city's bars and restaurants, many of which double as exhibition spaces and live music venues, as well as several decent nightclubs where visitors can dance away the night until dawn.
There is no shortage of things to do in Aveiro. The only challenge is likely to be finding enough time to fit it all in, so plan your trip carefully to make sure you get the most from your visit to this unique and inspiring city.