Ever since its university was established in the 1970s, the city of Aveiro in west-central Portugal has been undergoing a process of evolution into a lively, cultural centre, which has breathed new life into this attractive maritime destination.
The city is surrounded by a huge lagoon, which was once cut off completely from the nearby Atlantic shoreline by a huge line of sand dunes. Efforts to open it up once more, well over a century ago, resulted in the creation of a network of canals criss-crossing the city centre, and it is on the largest of these canals, the Canal de Sao Roque, that nightlife in Aveiro is mostly concentrated.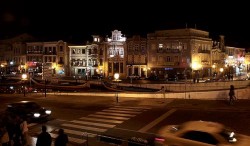 This area once formed the centrepiece of the region's marine agricultural industry, and a series of eighteenth-century stone salt warehouses, long since abandoned, have been tenderly transformed in recent years into a series of bars that embrace Aveiro's rich past whilst being the driving force behind its evolution as a centre for Portuguese culture.
The most notable of these is perhaps Salpoente, which is both a restaurant and a bar, and a major entertainment venue into the bargain. Salpoente plays host to regular art exhibitions by local artists, and music and drama performances. There is music on the menu every weekend, guaranteed to liven up an already exciting and unique dining experience.
If you want to combine your evening's entertainment with your evening meal, this is the perfect place to do it. Chef Duarte Eira has won awards and accolades for his codfish specialities and the restaurant's chef's table is the perfect place to sample them, whilst securing one of the best seats in the house for enjoying the musical entertainment. Expect to hear plenty of rock and Brazilian samba — in fact, just about anything with the exception of Portugal's traditional Fado sounds.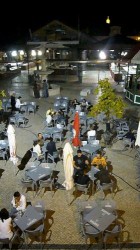 If you would prefer something a little more low-key, consider starting your evening at the Casa de Cha. The Casa de Cha tea room occupies a unique space in the Museum Arte Nova and opens out into a relaxed al fresco space in which to while away a warm summer afternoon and evening. By day, the Casa de Cha serves speciality teas and coffees, and delicious local cakes and pastries before transforming, as the evening draws in, into a sophisticated cocktail lounge where Caipirinhas and Mojitos are the refreshment of choice, to the accompaniment of ambient electronic sounds and plenty of lively conversation.
The main area concentrating the majority of people going out at night looking for a place to unwind, meet people and have a few drinks is definitely the wide square in front of the Mercado do Peixe, or fish market, as well as its surroundings, which is locally known as Praça do Peixe. Praça do Peixe encompasses a number of bars that usually fill up from Thursday to Saturday with lots of locals and also visitors from abroad who usually enjoy the lively scenery of this well-known square.
The Mercado Negro is another popular drinking and dancing venue in Aveiro. This fashionable space holds together a number of shops and lounge rooms that make up for a wonderful night, especially if you get the chance of catching one of their many live performances, concerts, installations and even art exhibitions. Mercado Negro is mostly famous for its diversity-driven look & feel, with its artsy walls, old, classic furniture and mismatched chairs.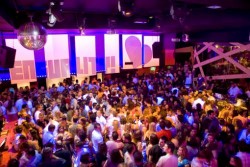 The ultimate nightspot at the heart of the Aveiro cultural map is the Estaçao da Luz nightclub. With its capacity of 900 people, this is the perfect spot to come and lose yourself to the rhythm of the beat, to DJ sets from national and international artists, although a resident DJ plays at this venue most of the nights. Open from Wednesday to Saturday from 12:30AM until 6AM during the summer season, the Estaçao da Luz is popular with locals, visitors and students alike, making it the most sought-after nightspot in the city.
As Estaçao da Luz is somewhat far from the city centre, you may as well end your night at the only disco bar in Aveiro, the NB Club, a smaller yet more laidback club in the middle of the canals that you can easily reach by foot — and also leave by foot, which will simplify the task of getting to the hotel. NB Club is located at Rua Cais do Paraiso and is host to a number of national and international DJ acts and two different dance floors for your enjoyment.
Nightlife in Aveiro, Portugal, is varied, exciting and laid back in equal measure. Here, locals and visitors rub shoulders side by side, making it the perfect city to while away an evening or dance away the night, no matter what type of music you prefer.