La Mamaroma Restaurant is an attractive eatery located on a quiet street in the centre of Aveiro, Portugal. The inviting frontage sits on the borders of one of Aveiro's famous canals and beckons diners to step inside and sample a range of delicious Italian and French favourites, served with a Portuguese twist and lovingly prepared by a dedicated and experienced international team.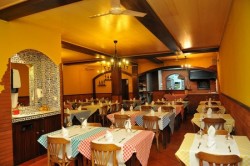 Inside, the rustic décor makes the perfect backdrop for a meal to add to the memories of your stay in Aveiro, Portugal. There are views out of the windows to the city and the canal, enjoyed to perfection from the comfort of your table. The dining room is air conditioned, making it a popular choice during the warmer summer months, and there is seating for up to 80 diners.
If Aveiro conjures up memories of Italy, thanks to its canal network, pretty "moliceiros" which resemble traditional gondolas, and vibrant atmosphere, then La Mamaroma Restaurant is the perfect place to eat. The wood-fired oven has a reputation for producing some of the most delicious and authentic Italian-style pizzas in the city. These are produced with traditional thin bases and lashed with generous toppings of tomato, mozzarella, vegetables, meat and seafood.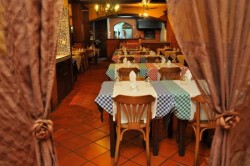 The seafood pizza is one of the house specialities and has to be tasted to be believed. The heat of the wood-fired oven gives them a unique texture and aroma which, when combined with the delicious fresh seafood caught in the local waters daily, makes for the most exquisite combination.
Other favourites on the menu include a variety of meat and fish dishes, salads, risottos, and delicious freshly made pasta. The house pasta is made to a traditional Italian recipe using just flour, water and eggs, resulting in a substantial yet light pasta base which complements the flavours, with which it is matched to perfection.
A fun alternative is to order a hot-stone speciality, which involves cooking a choice of beef, turkey or other meats on a hot stone directly at the table. These are usually served with a range of sauces, potatoes and salad.
Service at La Mamaroma Restaurant is warm and friendly in typically Latin style. Opening hours are from midday to 3PM for lunch, Tuesday to Friday, Sundays and bank holidays. Dinner is served from 7PM to midnight, Tuesday to Sunday and bank holidays. Average price per head is around 20 euros, all major credit cards accepted.
La Mamaroma
Rua Cais do Alboi 21
3810-045 Aveiro
Portugal
Tel: +351 234 384 586
Email: geral@lamamaroma.pt
www.lamamaroma.pt