The Sao Domingos Church, in Aveiro, was founded in 1423 and went on to be remodelled significantly in the 16th and 17th centuries. Located right in the heart of the city, this attractive cathedral is not to be missed as you spend your time sightseeing in and around the city centre.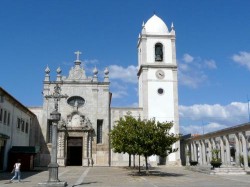 Also known as Aveiro Cathedral, the Sao Domingos Church in Aveiro is exceptionally well maintained, making it a delightful stop for those who enjoy exploring the interior of important ecclesiastical buildings as much as they enjoy admiring their delightful exterior architecture.
Aveiro Cathedral dominates the town square, standing out and imposingly for its beautifully tiled façade. The façade is designed in Gothic style, attached to the original wall that was the only structure to have survived the 300 years or so from its initial construction to its first major renovation. A portal was later added, framed by four columns, in keeping with the style that was so popular during the era of one of its major renovations, in 1719.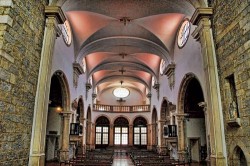 Many centuries ago, the church and monastery to which it was attached were converted into barracks. These later burned down but the church section was left standing and was later declared a cathedral.
It is worth visiting the Sao Domingos Church in Aveiro early in the day to avoid the crowds, as it is one of the city's main highlights on the sightseeing agenda. It is also busy with locals during Sunday mass, as most of Portugal's population, the majority subscribe to the catholic faith. However, if you are in Aveiro on a Sunday, it could be well worth timing your visit to coincide with mass, whether or not you are a catholic, as it provides a fascinating insight into the history and customs both of the church and of this charming town in west-central Portugal.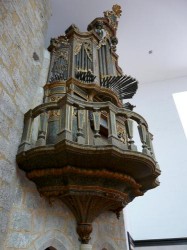 Behind the ornate tiles of the façade is a relatively simple whitewashed structure, which stands out none the less for its simplicity, broken up by the occasional ornate decoration both inside and out. Above the portal to the front can be seen images of the three graces, and as you enter the church you are greeted by a high vaulted ceiling and an unusual amount of light, thanks to the brilliant white backdrop.
There are many wood carvings dotted throughout, and heavy original chairs for the choir, which bring the expansive interior to life. The tranquil atmosphere and echoes of times past make visiting Aveiro Cathedral a delight.
Aveiro cathedral is situated close to the St Anthony Park, the fish market, Forum Aveiro and the lagoon, making it an easy stop during any sightseeing itinerary around Aveiro, Portugal's very own answer to Venice.