Like many of the restaurants in Aveiro, Portugal, Mercantel Restaurant specialises in fish and seafood, much of which is caught in the waters that surround this unique city in the west-central region.
Mercantel is one of Aveiro's larger restaurants, with capacity for some 280 diners, and provides a friendly, pleasant and inexpensive option for those looking to taste some of Portugal's traditional maritime fare. The dining room is decorated with painted ceramic tiles depicting life in Aveiro, providing an unusual and interesting focal point to your meal – in addition to the delicious food that is!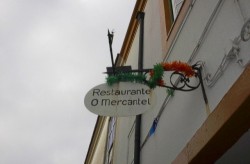 It is said that to stay in Aveiro and not try the Mercantel Restaurant is like staying in Valencia, Spain, and not tasting Paella at the Albufera. Certainly the restaurant has built up a strong reputation in the 20 years since it was established, and customers return again and again for its tasty food cooked in the traditional style of regional Portugal.
Amongst the house specialities are many types of fish dishes, including grilled sardines, with their unmistakeable aroma that will transport you right back to Aveiro, Portugal, wherever in the world you smell them. Other favourites are seafood rice, prawn rice, fish soup, mussels, prawn omelette, fresh lobster and many types of freshly cooked fish, grilled, fried or baked to perfection.
The fish and seafood is selected by the chef on a daily basis from the nearby fish market, which is one of the must-see destinations on any Aveiro sightseeing itinerary. Of course not everyone is a fish lover and there are plenty of dishes to suit the more carnivorous tastes, including beef, chicken and lamb.
Desserts are also popular here and portions generous, so if you have a craving for something sweet but aren't sure you could manage a full portion, it is worth ordering one to share to satisfy those taste buds.
Average prices per head are highly competitive here, at around 15 euros per head for a main dish, water and dessert. Allow a little more if you would like to choose something from the wine list to accompany your meal, but it is certainly reasonable to expect plenty of change from 50 euros for a meal for two with wine.
Mercantel Restaurant is open daily for lunch and dinner from Tuesday to Sunday, closed on Mondays, and booking is advisable at this popular Aveiro restaurant. All major credit cards accepted.
Mercantel Restaurant
Rua António dos Santos Lé 16
3800 105 Aveiro
Portugal
Tel: +351 234 428 057