Perched on the western coast of central Portugal, less than an hour from the famous city of Porto, lies a magical city of pastel hues, surrounded by turquoise waters and golden sands, and bathed in the deep blue skies of the western European mainland. Its name? Aveiro, the Venice of Portugal.
Aveiro earned its "Venice" nickname thanks to the expansive lagoon and canals that weave their way around and through the city. At the heart of Aveiro's industry and economy for hundreds of years, exploring these narrow waters with the use of a gondola-like boat, the "moliceiro", is one of the most satisfying things to do during your time in the city.
Admire the brightly coloured houses, the ornate carvings on the boats and the pretty bridges that criss-cross the water and you will be left with many pleasant memories of your time here.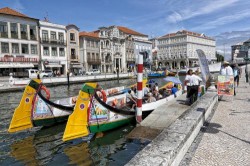 There are many attractions in Aveiro on dry land. Aveiro is a compact city and it is possible to visit many of the central attractions in Aveiro during a single day of exploration on foot. Head for the Sao Domingos Church, the city's imposing cathedral which dominates the main square and admire its beautifully tiled façade, Gothic architecture and ornate baroque portal.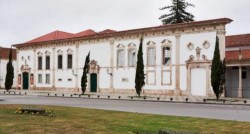 Directly opposite is the Jesus Monastery, also known as the St Joana Convent, which is the resting place of the patron saint of Aveiro. St Joana was the daughter of King Afonso V who dedicated her life to the Dominican order and is believed to have been responsible for a number of good miracles.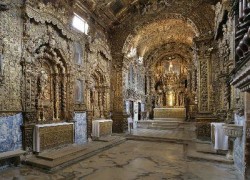 The monastery is part of the Aveiro Museum complex, which houses a large collection of ecclesiastical art from all over Portugal, spanning more than three centuries.
Attractions in Aveiro are not limited to the city centre. Ilhavo, just 6km from Aveiro, is the destination of choice for those with the time to explore the city's surroundings. Ilhavo is home to the Vista Alegre Museum and Porcelain factory, which is known around the world for its high quality products and distinctive designs. A visit provides a fascinating insight into the brand's history and the unique processes involved in its manufacturing.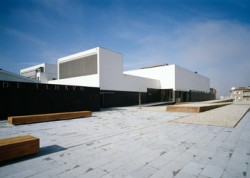 Don't miss the Maritime Museum of Ilhavo during your stay as well. This is a must-see destination both for its award-winning architecture, which sets off the maritime collections to perfection, and for the wide range of exhibits on display. The museum is the perfect place to learn about the country's rich sea-faring heritage, as well as to understand the role that the sea, canals and lagoon have played in Aveiro's history for hundreds of years.
Attractions in Aveiro offer much to see and inspire. All that remains is for you to come and see for yourself.