Nightlife on Portugal's Algarve offers something for everyone and Alvor is no exception, with plenty of evening entertainment for families, couples and groups, no matter what their age.
Although more peaceful than nearby Praia da Rocha, Alvor is still well able to throw a party and there are many bars, restaurants and clubs to choose from, whether you are in search of glitz and glamour or a quiet cocktail.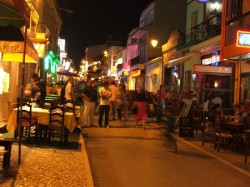 As a family resort, Alvor Nightlife start earlier than in some Algarve destinations, with the many restaurants catering to mixed groups of all ages. Head straight for your meal on the harbour, in the weaving streets of the town or in one of the lovely resort restaurants – or start your evening with a sundowner on the terrace of one of Alvor's relaxing cocktail bars.
For a sophisticated start to your evening, start at Michaels Bar, a delicious cocktail bar with a great happy hour and daily specials, designed to keep their loyal following coming back for more. Michaels was renovated for the 2012 and is has a wonderfully sophisticated yet welcoming ambience. Strategically placed right at the entrance to the village, the spacious terrace is the perfect sport for a little early evening people watching.
For the hardcore, happy hour begins at 1pm and continues until 7.30pm, with the extensive cocktail list continuing to please until well into the early hours. Try the mojitos or a delicious caipirinha and if you have the little ones or non-drinkers in tow there is a wide range of non-alcoholic cocktails too.
Michaels Bar offers live entertainment every night, usually either live music or karaoke. It also features a huge screen measuring 1.65m x 1.2m and is the perfect spot for watching major sporting events live, ensuring that you miss none of your home comforts during your holiday in Portugal.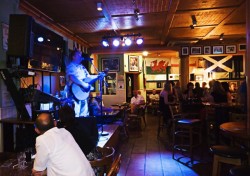 For an evening of bonhomie and camaraderie head to Cactos II Restaurant where Mark and Ali, the English owners, make a point of getting to know each and every one of their customers, and welcome them back like old friends from the first time they return.
Ali runs the friendly bar team while Mark provides nightly entertainment to a fun-loving crowd of holidaymakers. This is the place to meet new people and share an evening of fun – and best avoided if you simply want a quiet drink and conversation for two. The Cactos II Restaurant is located within the Dunas do Alvor apartment complex, an unlikely location for such a lively evening venue but well worth making the effort to go.
It seems that wherever you go in the world, the Irish bar made it there first, and Alvor Nightlife is no exception. Two well-established favourites here include Paddy's Bar and The Black Stove Irish Bar.
Paddy's Bar was one of the very first Irish bars to spring up on the Algarve and was the first in Alvor village. In typical fashion, this is a place to enjoy draft ales and stout, live music, good company and new friends. Set over two floors it is run by Irish couple Pat and Sarah, two long-time residents of Alvor who seem to know just what their customers want and give it to them in bucketloads.
To spice up nightlife in Alvor, live music features on the agenda several times a week and the giant screens are a great place for watching major sporting events such as the grand prix, football and premier league football.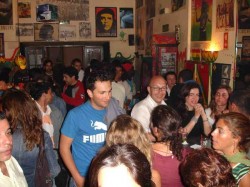 The Black Stove Irish Bar complements rather than competes with Paddy's Bar. Opened in 2005, it is again run by Irish owners and features traditional Irish bar décor, the long wooden bar being the place where friendships are made and laughs ring out aplenty.
The in-house musician, Keith, gets the feet tapping every night of the week with lively renditions of classic pop, rock and Irish tunes. The Black Stove serves snacks and meals throughout the day to keep the hunger pangs at bay and is the perfect spot for catching some live sporting action on one of its large screens.
Such is the popularity of the Black Stove that it has recently opened a sister Irish Bar in nearby Carvoeiro to great acclaim.
Perhaps the most idyllic evening entertainment destination in Alvor is Caniço. Set within the Prainha complex, it is built right into the clifftop, hovering over the sands just below.
Caniço is essentially a beach bar – but a beach bar with a difference. Open from 10am daily, it serves delicious modern Portuguese fare with a traditional twist from dawn until dusk, but it is at night that the bar comes into its own. During the summer season, with the cliffs lit back-lit to the rear, a DJ sets up his decks on the sands and so the party begins.
If there is one location that ticks all the boxes for an evening's entertainment, Caniço is probably it – cocktails over sunset, dinner under the stars and moonlit dancing on the sands. Heaven.