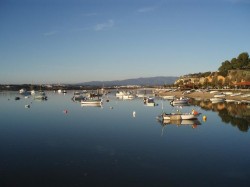 Located right at the mouth of the estuary of the River Alvor and River Arade, the beachside town of Alvor in Portugal is the perfect location for exploring the natural habitats that reside not just within its marine waters but also within the salt marshes, mud flats, forest and green areas that surround it.
As one of the most important wetland areas on the Algarve, the Ria de Alvor, or Alvor Estuary, is home to dozens of species of migratory bird and a large variety of animal life. The area was designated as a RAMSAR Wetland of International Importance in May 1996 in order to protect the many species that thrive in the diverse habitats of this intriguing area. It has also earned itself a classification as a CORINE Biotope and as a Special Conservation Area by the NATURA 2000 network.
Two sand dunes separate Alvor Estuary from the sea, creating a unique coastal lagoon, which, together with the surrounding areas and the peninsulas of Quinta da Rocha and Abicada that form the protected area, account for over 1454 hectares of land. It is not only the plant an animal species that thrive in this area. Local communities of fishermen, shellfish gatherers and agricultural workers rely on this rich ecosystem for their livelihood.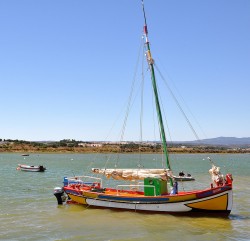 This wetland area can be explored to a small degree on foot, and areas of the marshland and surrounding area are also accessible by car or bicycle. The best way to explore, however, is from the vantage point of the water itself.
A guided canoe tour provides the perfect vehicle for reaching into the heart of the estuary, to observe for yourself the flora, fauna, fishermen and agricultural workers whose lives have changed little in centuries. Canoe tours are suitable for all ages, from young children to adults.
Experienced canoeists can choose to travel single-handed but for families with young children modern, hard-plastic Canadian canoes are available. These are safe, sturdy and spacious, each allowing room for a maximum of two adults and one child (under ten) along with space for a bag, towels and some food and drink supplies.
Groups are led by experienced guides and accompanied by a Portuguese fishing boat, which acts a support boat for extra safety and comfort. Tours are available in motorboats themselves if you are not keen on or not able to participate in the canoeing activity, or if you are part of a mixed group you can request a space in the support boat with prior notice.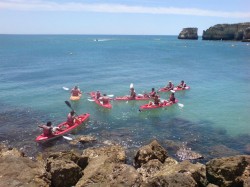 Nature trips by canoe are available into the lagoon or up river. A trip into the lagoon is relatively relaxing. It begins from Alvor harbour, from where you will paddle out into the centre of the lagoon to a large sandbank that sits in the middle.
A long stop here will give you the chance to relax a while in the sunshine, swim in the clean, clear waters, collect colourful stones and shells or simply watch the local fishermen passing by in their boats or collecting shellfish in the shallow waters.
Your guide will point out many bird species to you, share his knowledge about the wetland area, and answer any questions you have.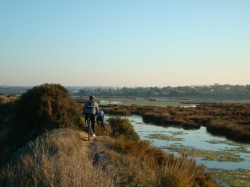 Once you have rested and recuperated you will paddle your way back to once again to the town. Trips take around three hours and are usually run in the morning when the mildly tidal lagoon waters are at their very calmest.
Trips up river are a little more demanding and are longer, to allow for the extra distance travelled. Departing from Alvor harbour, you will paddle along the waterfront promenade and into the mouth of the River Alvor, passing through the protected wetland area with its many birds and animals until you reach the largest palm plantation in Spain and Portugal.
There is a chance here to stop for a bite to eat and drink and explore the local area and once again, your guide will be happy to fill you in on any questions you may have and share with you his wisdom and experience, gained from living and working for many years in this unique environment.