The harbour area in Alvor, Portugal, is simply bursting with lovely restaurants and is the perfect location for a meal of fresh fish or seafood, washed down with a glass or two of local Algarvean wine. Visitors in search of a tasty meal would do well to head for A Lota Restaurant.
A Lota Restaurant is located just up the hill from the harbour and offers excellent views down over the boats and out to the Atlantic beyond. It is close enough to provide a lovely marine backdrop without being right on the harbour front itself and charging the front-line premium that comes with it.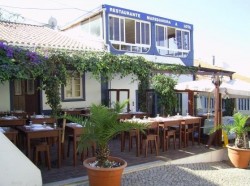 This Alvor restaurant offers a light and spacious dining room and a wide terrace on which to enjoy your meal during the summer season. The staff are friendly and welcoming and happy to sit you wherever you wish, from marine view to cosy corner.
Being predominantly a fish and seafood specialist, the menu at A Lota Restaurant is certainly balanced rather in that direction, however there are still some excellent meat options on offer for the ultimate carnivores. It would be a shame though, to come here and not sample a little of what this Alvor restaurant does best.
Much of the food is prepared on a huge barbeque grill area that is open to the public, so you can watch the chef in action as he creates your culinary masterpiece. Fish is freshly bought in daily and there is also a live tank from which to select lobster, crab and other delights.
Choose between daily specials and a la carte options from the varied menu, which is certain to offer something to please every taste.

Portugal is famous for its delicious sardines and those caught off the coast here on the Algarve are the best there are. A Lota Restaurant is a popular Alvor choice for a leisurely lunch of grilled sardines, the perfect sizzling taste sensation.
Much of the fish is priced according to size so choose carefully and assess your appetite before you go overboard. Expect to pay around 50 euros for a three-course meal for two, a little more if you push the boat out.
A Lota Restaurant
Rua Doutor Frederico Ramos Mendes, 79
Alvor
Tel: +351 282 458 444