Buzio Restaurant is located in a quiet, residential area in the Prainha development in Alvor, Portugal. Its situation could not be more idyllic, perched as it is above the wide sweep of golden sand that comprises Alvor Bay and offering extensive views across to Lagos.
This is the place to come and enjoy a relaxed meal against the unbeatable backdrop of Portugal's Atlantic coast.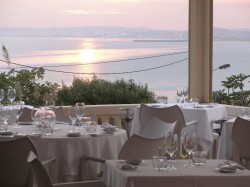 Long-time visitors will know that Buzio Restaurant has been established in the area for many years and is something of an institution in Alvor. It retains a traditional Portuguese feel whilst every year modernizing itself both in terms of its interior setting and its take on classic Portuguese and Modern European dishes.
The dining room has a fresh, light and airy feel and the clever addition of the conservatory floods the restaurant in natural light and creates the effect of bringing the outside in whilst leading the diner right outside to the beautiful golden sands below.
The waiting staff are friendly and helpful, taking their example from the inimitable Gilberto Gato, the restaurant's owner and manager. The overall atmosphere is relaxed and informal, and yet there is a pervading sense of elegance and style too, making this a popular location for family celebrations and meals for large groups. In fact, although the restaurant is usually closed at lunch time it can be booked for groups of ten or more by prior arrangement, making it the perfect place for a group celebration during your holiday in Alvor.

The wine list is well balanced and offers plenty of selection amongst national and international wines within a decent budget range.
Starters average around €8.50 and main courses €12.50 – €24.00. Booking is advisable – ask for a table on the terrace to make the most of the views and the beautiful setting and arrive early in order to enjoy an aperitif in the Buzio lounge bar as you get into the mood for your meal.
Buzio Restaurant
Aldeamento da Prainha – Praia dos 3 Irmãos
Apt 125 – Torralta – Alvor – Portimão
??Phone: +351 282 458 772 / +351 917 889 344
email: Gilbertogato@restaurantebuzio.com
www.restaurantebuzio.com
Opening Monday to Saturday for dinner from 6.30pm. Closed Sundays. Open for lunch by prior arrangement for pre-booked groups of ten or more.