The Cactos II Restaurant is a popular additional to the Alvor bar scene and one that is sure to please the many visitors who flock to Portugal's lovely western Algarve region every year.
On first glance, one could be forgiven for dismissing the Cactos II as a simple poolside bar, or even for not coming across it at all, located as it is in the middle of the Dunas do Alvor apartment complex.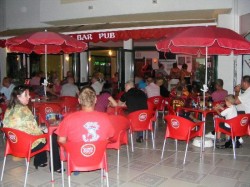 The complex, however, is well located just a short stroll from the beach and close to Alvor village centre, and wherever you are staying in the local area, the Cactos II Restaurant merits a visit. In fact, once they discover this little gem, many guests return again night after night.
Mark and Ali are the owners of the Cactos II Restaurant and bar and are very much the face and the personality of the place. Ali runs the front of house team expertly and with a huge smile on her face while Mark supplies the entertainment to a fun-loving crowd of holidaymakers.
If you enjoy meeting people on your travels and sharing an evening of entertainment, conversation and laughs, this popular bar and restaurant in Alvor, Portugal, is the place for you.
This restaurant and bar is clean and comfortably furnished with an indoor seating area and spacious outdoor terrace and as soon as you arrive you will be greeted by Ali and her team as an old friend. She and the entire crew have an uncanny memory for faces and names and will greet you like old friends from the very first time you return.
Arrive after 9pm and you will be automatically introduced to every other table in the bar, ensuring you are drawn into the fun and made to feel as though you have arrived at a private party.

A daily happy hour operates until 9pm with a huge range of cocktails priced very reasonable between two and three euros and a wide range of bar snacks is available at all hours.
Cactos II Restaurant
Estrada da Barca ?
Dunas Do Alvor Complex
Alvor
Phone: +351 282 496 248
email: info@cactos2bar.com
www.cactos2bar.com
Open every day from midday until 1.00am. Live music from 9.15pm to midnight.