Despite being one of the newer additions to the Alvor restaurant scene, Ruccula Restaurant has certainly taken the area by storm. Since its opening it has consistently been hailed as one of the best in town and many devotees, who return week after week and trip after trip, will vouch for its position as one of the very best on the Algarve.
Ruccula Restaurant is located in an enviable position overlooking Alvor harbour, providing the perfect destination for a relaxed and lengthy evening meal with good food, good wine, good company and a view that is second to none. It is worth beginning your meal early in order to fully appreciate the sunset over the harbour on a balmy summer's night in Portugal.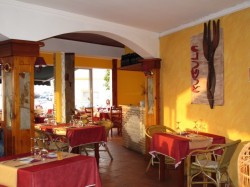 Ruccula Restaurant is a family-run establishment where owner Richard and his team including Bella, Claudia and Paolo give each and every guest a warm welcome. And from the first time you return you are sure to be remembered and greeted as a valued old friend of the family.
The light and airy dining room is open to the kitchen, enabling you to see your food being prepared as the chef works his magic. The front of house team is very helpful with suggestions from the menu and happy to accommodate any specific requests with your order, and useful recommendations for wine and refreshments to accompany your meal make for a relaxed and tasty experience.
The décor is modern and airy and the restaurant is busy just about every night. If you are looking for a quiet retreat for a romantic meal for two this may not be your best option, but if you are in search of a lively atmosphere and some of the best food on the coast, you are sure to find it at Ruccula Restaurant.

Leave room for dessert – bon bon and tiramisu are amongst the best – and wash it all down a delicious port wine and coffee.
Booking is recommended whatever the season. Major credit and debit cards accepted.
Ruccula Restaurant
Rua Poeta João de Deus?, 13,1ª?
8500 Alvor
Tel: +351 965 839 902 / +351 968 169 027
Email: ?g.amaro@hotmail.com
Open every evening from 7pm