The Algarve in Portugal has become famous in recent decades for the volume and variety of its golf courses. The area is a favourite destination all year round for amateurs and more experienced golfers to test their handicap and practice their swing on the long fairways and manicured greens against the backdrop of the gleaming Portuguese sun. Visitors to Alvor are well positioned to access some of the best courses in the area quickly and easily.
In the company of champions at Penina
The oldest and most famous course on Portugal's Algarve was Penina, located close to Alvor. Penina is a Championship Course and is considered to be one of the greatest ever made by the famous course designer Sir Henry Cotton.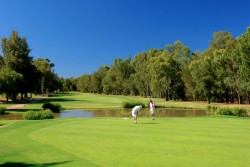 The course is built in an area that was originally paddy fields, dedicated to rice growing, but was expertly converted by Cotton, with the help of plenty of water hazards and some half a million shrubs which were planted in the conversion, into a challenging course for expert golfers.
The course has played host to several Portuguese Open Championships and is something of a Mecca for talented players from all over the world.
The 18-hole championship course is complemented by two nine holes, the Resort Course and the Academy Course, ensuring that Penina offers something for everyone. Further facilities include a driving range, no less than three putting greens, a practice circuit, golf shop, hotel, restaurants, bars, swimming pool, solarium, tennis courts, snooker, horse riding and even sailing.
Handicap: 28 gentlemen, 36 ladies.
Green fees: €120 high season, €80 low season
Lessons: Half Hour Lesson – €30.00
One hour Lesson – €50.00
On a high in Alto
Alto is conveniently located close to Alvor's neighbouring town of Portimão and is one of the most enjoyable places to play golf in Alvor.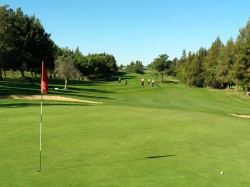 Wedged between the town and the sea, the course follows an interesting, weaving circuit, which maximises its geographical surroundings to produce the occasional delightful sea view as the greenery opens out to a flash of turquoise.
The course was inaugurated in 1991 and features another expert design by the legendary Sir Henry Cotton. Alto opens with a simple par-3 but do not be lulled into a false sense of security, this is a challenging course that will test your skills with bunkers, dog legs, elevated greens and many strategically placed trees.
The par-5 sixteenth hole is one of the longest in Europe and provides a challenging test of strength, skill and accuracy. Facilities at Alto include a driving range, putting green, pro shop, golf academy, restaurant and bar.
Handicap: 28 gentlemen, 36 ladies.
Green fees: €85
Lessons: Half Hour Lesson – €25.00
One hour Lesson – €45.00
Don't miss the Alamos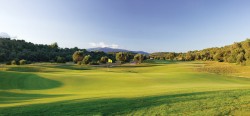 The par-71 Alamos is one of the newest destinations for golf in Alvor, opened in 2006. It is located just north of Portimão and is laid out as a neighbour to its sister course, Morgado.
Alamos is set in 980 hectares of small twisting valleys and features large raised greens and deep bunkers to challenge even the most experienced of golfers. Facilities include a driving range, putting green, golf academy, pro shop, restaurant and bar.
Handicap: 28 gentlemen, 36 ladies.
Green fees: €110 high season, €50 low season
Gleaming new Morgado
Morgado is the Algarve's newest course and is set in the same 980-hectare estate as its sister course, Alamos. The interesting hilly terrain provides a challenge to most golfers and the large greens demand excellent putting skills in order to do them justice.
Deep bunkers are well positioned to add a further level of difficulty making this a challenging yet satisfying course for all levels. Morgado shares its wide range of facilities with sister course Alamos, including a driving range, putting green, golf academy, pro sho, restaurant and bar.
Handicap: 28 gentlemen, 36 ladies.
Green fees: €85
Test your accuracy at Gramacho

Opened in 1991, Gramacho was originally designed as a nine-hole course, which has been cleverly extended in recent years to become a full and challenging 18-hole design and one of the most exciting places for golf in Alvor.
The Gramacho course weaves its way through an attractive landscape of almond, olive and carob trees sown many years ago by the local farmers and unmoved during the course's design. As a result this is a testing course that demands accuracy in both club selection and shot.
The wide range of facilities includes a driving range, chipping green and bunker area, pro shop, golf academy, tennis courts, lawn bowling green, football pitch, basketball court, restaurant and bar.
Handicap: 28 gentlemen, 36 ladies.
Green fees: €95 high season, €65 low season
Lessons: Half Hour Lesson – €85.00 
Half day session – €150.00