What you bring for your day at the waterpark depends largely on the type of park you will be visiting. If a park combines a theme park and waterpark then you will want to keep your possessions with you in a light, waterproof bag.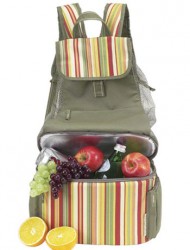 Wear a cotton dress or light shirt and shorts with plastic or rubber beach shoes so they don´t get ruined with all the water. Cover children well and take a change of clothes for them as they are bound to get soaked! If the weather is overcast take an extra layer for everyone to keep the chills at bay. Remember to pack your camera, some heavy-duty sunscreen, a hat and a mobile phone and you should be well set.
If the park is focused solely on water installations then you can assume you will spend the bulk of your day in your bathing suit or shorts and little else.
These parks tend to have good changing facilities and lockers for hire where you can leave your valuables and dry clothes in a safe and secure place. In this case it is worth leaving the maximum possible in the locker, leaving you free to enjoy the rides and slides without worrying about leaving your belongings unattended at the bottom.
If the weather is hot you can even leave your towels in the locker, although ponchos to wrap the little ones up for a quick dry can be useful, or alternatively take a sarong or two as these are easy to grab and carry around with you.
For a long day in the sun and water, a long-sleeved light shirt or t-shirt is a good idea or better still, try a UV vest with long sleeves, especially for children. These are light and breathable and dry off very quickly in between dips. Make sure your shorts or bathing suit are a good snug fit to avoid any mishaps on landing. Ladies are well advised to wear a one-piece as these tend to be slightly safer than a two-piece!
If possible wear a pair of swim shorts with a money pouch to save you returning to your locker whenever an ice cream beckons.
Sunscreen and a hat are a must for everyone when visiting a water park. Use a high protection factor and re-apply it regularly as even a waterproof cream will wash off quickly with lots of exposure to water.
Finally, make sure you all have two essentials – sunscreen and a hat, and you should be well set to enjoy your day.