Slide and Splash is Portugal´s largest water park and at 16.000 acres it is widely considered to be one of the best in Europe.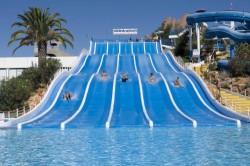 Located on the Algarve at Lagoa, between Lagos and Albufeira, the park is easily accessible by car from the A22 (take exit 6). There is plenty of visitor parking available at the park entrance. As one of the major attractions in the area, this Algarve waterpark also offers direct bus transfers from a variety of locations along the coast.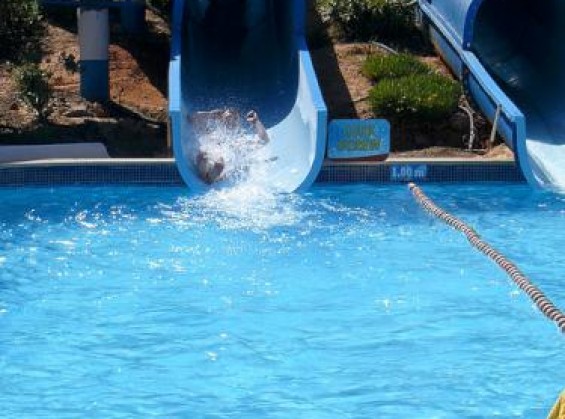 Slide & Splash has consistently upgraded itself year after year to retain its position as the best Algarve waterpark and ensure that its installations continue to be fun, challenging and safe.
Start with a breath-taking descent down the Kamikaze, followed by a dive into the unknown on the Black Hole, before racing your friends down the Bonzai. If you´re still left clamouring for more, take The Plunge before doubling back to the Blue Hole for a colourful ride to tease the sense. Finish with a quick zip down the wide lane chutes and a length or two of the Olympic-sized swimming pool before stopping to catch your breath and relax in the Jacuzzi.
The children´s area is exceptionally well designed with a range of interactive games and slides in appealing animal forms. Watch the little ones duck the water-spitting dragon, slide down the elephant´s trunk, wiggle through the tunnels and try their hand at the small-scale multilane slides, designed to get them in training for the bigger things to come.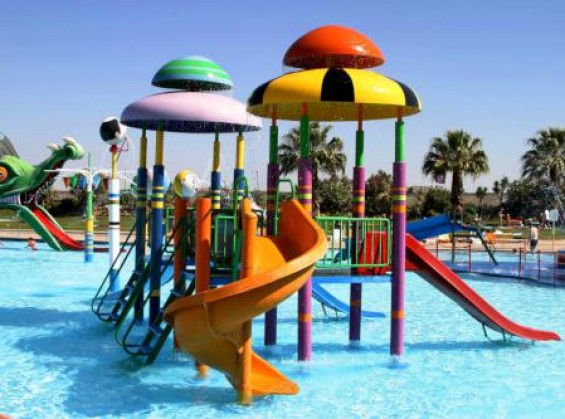 With 25,000m2 of grassed relaxation area, there is plenty of room to take it easy and watch your children from the safety of your sun lounger. All areas of the park are well patrolled and there is a first-aid post on site in the unlikely event that you should need it.
Lunch and refreshment facilities are plentiful, with two full service restaurants and three kiosks serving food and drinks to suit every taste and budget. For a mid-afternoon treat the ice cream parlour is a favourite amongst adults and children alike. The on-site gift shop stocks plentiful supplies of any necessities you may have forgotten along with a selection of mementos for the little ones to take home with them.
If you have time at the end of the day the surrounding area of Lagoa is worth a visit, but Slide and Splash offers so much fun and action that most visitors can do little more than just head home and sleep after their visit to this delightful Algarve waterpark!
Water Park: Slide & Splash Algarve
http://www.slidesplash.com
Opening hours
10.00 – 18.00 in August
10.00 – 17.00 in low season
Price:
Under 5: Free
Age 5 – 10 & over-65: €16.50
Adult: €21.00
Opening season:
11 April – 28 October
Location:
Lagoa, Algarve
Address E.N. 125 Vale de Deus-Estombar
8401-901 Lagoa