Your day at the waterpark – sun safety
With so much to entertain on a day at the water park, it is easy to get carried away and forget to top up the sun lotion but sun safety must not be overlooked.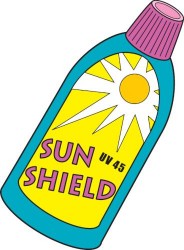 Follow these simple tips for protecting you and your little ones against the sun´s rays and you can enjoy your day of fun in the sun without worry.
Don't wait until you reach the park before applying your sun lotion. Put a good layer on before you leave your accommodation to ensure you are protected from the moment you arrive. Just 15 minutes without protection while you queue for entrance can be enough to burn in high season.
Use a high protection, waterproof sunscreen with a minimum SPF of 15 for adults and 30 for children, and higher if possible. Be sure to rub it under your shorts or bathing suit so that unprotected areas do not get exposed as your suit moves around during the day. Reapply cream or lotion liberally and regularly to ensure its protective effects do not wear off.
Take frequent breaks from the sun. Stop for a drink in the shade, relax under a palm or cover up with a light shirt or sarong to give your skin a break from the sun´s rays, especially during the hotter hours from 11am until 3pm when the sun is at its hottest and its UV rays at their most powerful.
Don´t assume that because you can´t feel yourself burning, that you are not. Often the sun´s effects aren´t felt until later in the day when you´re out of the heat. And sun damage to skin will not show for years before appearing with sometimes devastating results. If you do feel you are burning, move into the shade immediately and cover up.
UV t-shirts or suits are an excellent option and are highly recommended, especially for children spending the whole day in the sun. This type of clothing filters the sun´s harmful rays and is lightweight and quick-drying – perfect for a day in and out of the water.
A hat and sunglasses are a must for your day at the water park. Long hours in the sun can lead to sunstroke so a hat is essential (and remember to keep hydrated too). And finally, don´t forget that your eyes also need protection from UV rays. Choose good quality sunglasses with UV filter and always wear them in the sun.