Most waterparks take safety very seriously, and to prevent accidents it is equally important that their visitors do so to.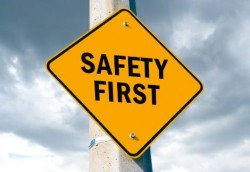 Each park should have its own rules and regulations for use displayed prominently at the entrance and in various locations around the park. Don´t ignore them as they are important to your safe enjoyment of the park.
Most parks offer a range of slides and rides including tubes, wave pools, rivers and rapids. Each will be constructed in a different way and the basic physics that control your ride may result in age, weight or height restrictions. If so do not try to cheat them as they are there for your safety and the safety of others, not to spoil your fun.
Watch children carefully and ensure that they are comfortable in the water at all times. Even if your little one is a champ swimmer he or she may need a little extra help when coping with a wave pool or plunging into the water from the bottom of a curling tube ride. Take arm-bands or other buoyancy aids for non-swimmers and insist on them wearing them at all times, not just when you are expecting them to be in the water.
Move away from the bottom of rides quickly to keep queues moving and to avoid accidents and impress on your children that they must do the same. Monitors should also be on duty at all rides and at all times to enforce this and to ensure general ride safety. You should never see a ride unattended but if you do, you would be well advised not to use it until the monitor or lifeguard returns.
Most parks take safety and cleanliness very seriously but if you do have any concerns, listen to your instincts. If a ride looks unsafe assume it is, and if water looks dirty – it may well be.
Take care with your belongings and leave valuables in a locker which most parks have available to rent. Never let your camera or mobile near the water. If you want to take pictures then use your camera well away from the water and store it again immediately, or take a disposable waterproof camera. Most parks have a photo service where you can buy a memento of your day and while these may not be the cheapest they cost considerably less than the cost of a new camera.
And finally, take care in the sun. Use plenty of UV protection, wear a hat and your day at the water park should be trouble free.