The Parque Aquático Scorpio, or Scorpio waterpark is located in the historic town of Guimarães in Minho, Portugal. It was built in 2003 by the town hall to provide an outdoor water entertainment and leisure area to complement the existing Guimarães swimming pool complex to which it is attached. It underwent several improvements in 2007, ensuring it keeps up with the demands of its many seasonal visitors.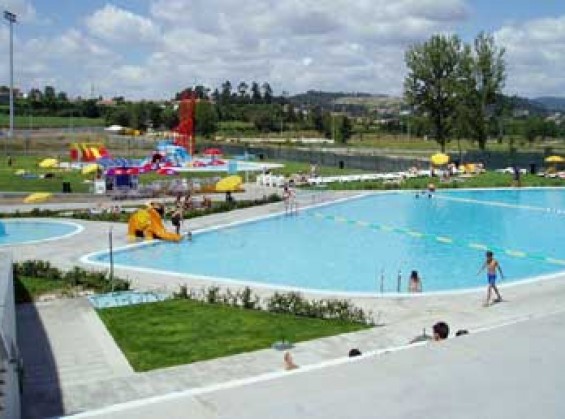 The water park is open throughout the season from June to September to provide a welcome retreat from the heat of the summer sun and the indoor pool complex remains open all year round. The main external pool area covers an area of 650 metres and is complemented by a baby pool, waterslide and Fantasyland kids' play area.
Children are at the heart of the Parque Aquático Scorpio´s thinking. The Fantasyland pool covers 350 m2 and is thoughtfully designed to afford maximum play and fun for little people whilst providing plenty of shaded areas to keep them safe from the sun during the hottest hours of the day. The shallow paddling pools reach a maximum depth of just 60 centimetres and are filled with colourful installations that appeal to their senses. Mushroom water falls, animal figures and low-rise water slide provide hours of entertainment under the watchful eye of the park´s monitors and lifeguards.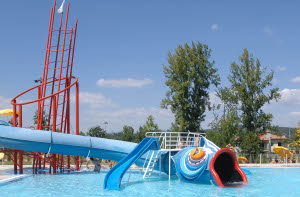 In acknowledgement of the city´s historical past, Fantasyland´s centrepiece is a large inclined castle, from which several water slides including the park´s namesake Scorpion´s head tube slide descend into the shallow waters.
An interactive play park for the youngest children is planned for next season, ensuring plenty of fun for everyone.
For older guests the 20-metre long waterslide is very popular, dropping from six metres into a deep base pool filled with refreshingly cool water. The Parque Aquático Scorpio is not for adrenalin junkies looking for the biggest and best water slide attractions, it is more a place where families come to relax and play together on warm summer weekend afternoons.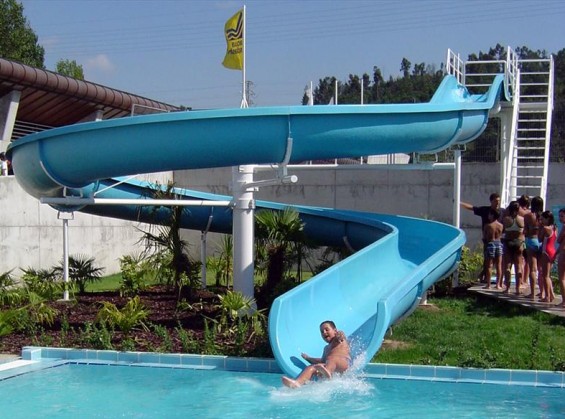 Parque Aquático Scorpio
The complex is well equipped and offers plenty of changing areas with showers. Parking is available at the entrance to the park and it is well accessible by public transport.
A UNESCO World Heritage Site, Guimarães is one of Portugal´s most historic cities and is said to be where the country was born. It has been designated the European Capital of Culture in 2012 and is definitely worth a visit.
Website: Parque Aquático Scorpio
Opening hours
09.00 – 20.00
Price
(Monday to Friday):
Under 2 and town cards: Free
Age 3 – 6: €1.25
Age 7 – 12: €2.50
Over 13: €3.50
Price
(Weekends and Bank Holidays):
Under 2 and town cards: Free
Age 3 – 6: €1.50
Age 7 – 12: €3.50
Over 13: €4.50
Opening season:
June – September
Location:
Alameda dos Desportos
Candoso S. Tiago
4835-235 Guimarães