Walk through the entrance gates to Sportagua in Peniche and you´ll feel yourself break into a smile. The ambient music tells you that this park is all about fun – and fun you will surely have.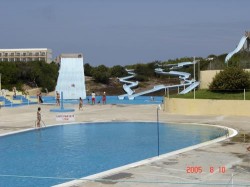 The park is situated in a convenient location at the entrance to the town of Peniche in a pretty touristic area surrounded by beaches. Access is easy from the A8 and there is plenty of car parking on site.
Families, couples and groups of friends are well catered for with a range of installations. Take a dive down the Kamikaze tube, a highly popular run offering a high-speed descent down to the warm bathing pool at its base. Once you have taken this in your stride, challenge your friends and family to a few simultaneous runs down the multi-track chute before moving on to the toboggan slide.
The park is thoughtfully designed with all these major rides converging in a single spacious pool, minimising time spent looking for your fellow group members and giving you added opportunities to catch a glimpse of their glee-filled faces as they lurch from the bottom of their rides.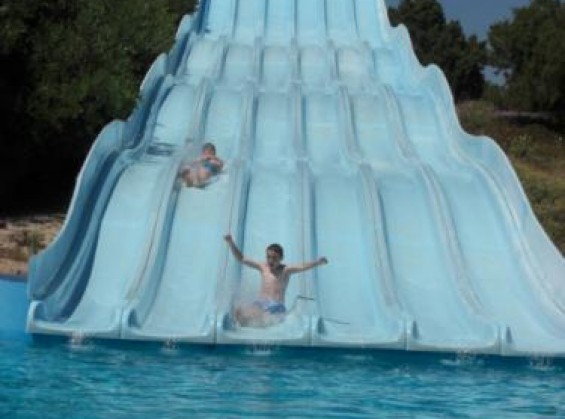 For the less adventurous, or indeed if you simply feel like taking a break from hurling yourself down vertical water chutes, take a dip in the 35m x 12m leisure pool or join in with one of the organised classes or activities on offer there throughout the day.
Sportagua at Peniche caters well for younger guests. The multilevel children´s pool rises to a maximum level of only 0.60m, suitably deep for the little ones to land in as they slide down the children´s multi-track chute and mini hills. Elsewhere it is even shallower, providing a great area for the smallest of visitors to enjoy some water fun.
Lifeguards are stationed next to all slides and pool areas to ensure your safety and whilst medical incidents are rare, the park retains a qualified nurse in residence to provide speedy attendance should it be necessary.
There are a range of snack facilities throughout the enclosure including poolside bar and ice cream kiosk as well as a larger restaurant and snack bar.
If you have any energy left after your day at Sportagua at Peniche it is well worth taking the time to explore the village and its pretty harbour. And what better way to finish off than with a meal at one of its excellent seafood restaurants.
Water Park: SportÁgua – Peniche
Website: www.sportagua.com
Opening hours
10.00 – 19.00
Price:
Adult (full day): €11.00
Adult (after 15.00): €9.00
6 – 11 years (full day): €9.00
6 – 11 years (after 15:00): €7.00
Children 0 – 6 years: Free
Opening season:
Summer Season
Location:
Peniche
Av. Monsenhor Manuel Bastos
2520-206 Peniche-Portugal