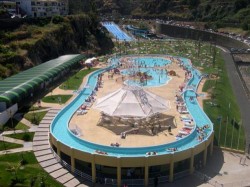 The Aquaparque de Santa Cruz in Madeira, was opened in 2005 and has gained tremendous popularity ever since. Situated some 16km Northeast of Funchal, close to the airport, it is an ideal location for a day out with friends and family. Nestled on a hillside rising out of the Atlantic Ocean, the park offers plenty of green open space and shaded areas in which to relax away from the midday sun.
The complex has capacity for up to 1000 visitors seeking fun and frolics in its range of modern water installations on a daily basis. It boasts five toboggan slides of varying heights and speeds, four high-speed chutes where the more daring can race their peers to the bottom, a fast river and a slow river for a more relaxing journey. Don´t miss the Black Hole, one of the most daring chutes at the Aquaparque de Santa Cruz and highly recommended!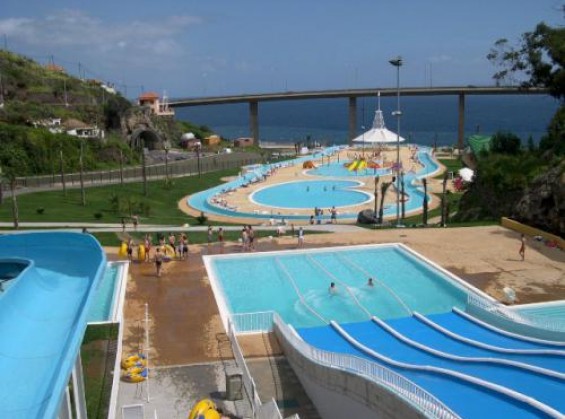 If you need to take some time out to relax and cool down after all the excitement, there are two leisure pools, one for mixed ages and the other for children only. For younger guests there is also a dedicated Aqualandia play park, a secluded area where children can play safely amongst low-rise, fun-filled water installations while you watch them from the comfort of your lounger.
Aquaparque de Santa Cruz is open daily from 10am until 6pm throughout the long summer season (March until October) and offers plenty to keep guests occupied for a fun-packed day out. With on-site shop, restaurant, café/bar, and sun terrace with loungers and shaded areas, once inside guests will find it hard to leave.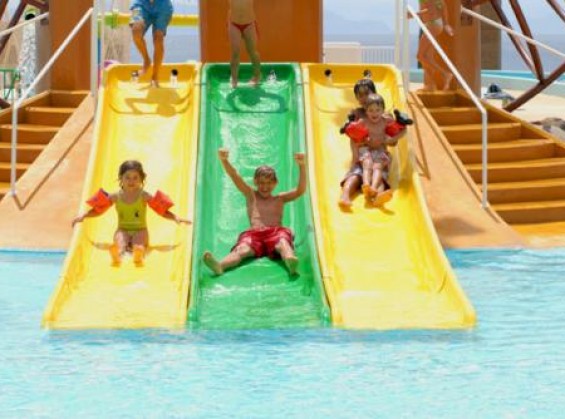 Once you do, however, there are various sights of interest close by, most notably the historic town of Machico a few kilometres away. This peaceful town was the landing point of the discoverers and offers a number of good quality restaurants and guesthouses. Take time to stop at Machico Beach which is well worth a visit for a spot of swimming, sunbathing or simply enjoying the view.
During high season Aquaparque de Santa Cruz is a popular entertainment venue and boasts a dedicated area for parties and shows, organised both by the park management and indeed by private individuals by prior arrangement. The park is easily accessible by public transport as well as by car and offers ample parking facilities. A visit is a must for any holidaymaker
Water Park: Aquaparque de Santa Cruz
Website: Aquaparque de Santa Cruz
Opening hours
10:00 – 18:00
Price:
Under 4 & over 65: free
Age 5 – 12: €4.00
Adults: €6.50
Opening season:
2nd week of March – 2nd week of November
Location:
Santa Cruz, Madeira
Ribeira da Boaventura
9100-138 Santa Cruz