With its weather condition, vast greeneries and overall ambience that are favourable for golf, it is no wonder why Vilamoura has become a cradle to top-notch golf courses not only in Portugal but in the entire Europe as well. Vilamoura golf courses offer not only the best facilities and services, but also breathtaking landscapes for memorable golf sessions.
Golfers will find that Vilamoura has diverse golf courses, each offering distinct ambience and each catering to all skill levels. For those who are traveling to Vilamoura for golf, here are some of the best places to go to.
Oceanico Old Course

Situated at the centre of Vilamoura is the Oceanico Old Course, one of the oldest but the most celebrated golf courses in Portugal. The Oceanico Old Course, designed by the famous architect Frank Pennink, is based on the English school of course design often described as the Grande Dame of Algarve courses.
The golf course wanders through a refreshing umbrella pinewood, boasting a seamlessly rippling natural terrains and contours. Surrounded by pine trees, it offers a perfect place for golfers looking for extra challenge to the game.
The Oceanico Old Course started its operations in 1969, and it had been continuously renovated and became completely modernized 27 years later. And despite redecorations, the Old Course maintained its picturesque and natural landscape. It also abides by the ISO 14001 standards for environmental protection.
Golfers love the challenges as well as the fantastic views in the Old Course. The first holes of the Old Course are straightforward, having reachable par-4s. However, there are holes that would require great selection of clubs. For instance, the back nine involves three complex par-5s. Its Par 3 holes are also all different, representing tough challenges where there is no margin for errors.
Oceanico Laguna Course

The Laguna Course, which was once a part of the 27-hole Vilamoura III course, stands out from other golf to the presence of water reservoirs. This par 72 golf course with 18 holes is set low down a coastal landscape, with minimal trees in the area and a cool ambience due its operations in 1990.
The lakes in the course impact the play, serving both as hazards and attraction for aquatic birds and other creatures. It shares with the Oceanico Millenium Course a spacious and elegant clubhouse. The course is also just a stone's throw away from Lusotour, a nature part in Vilamoura.
Oceanico Millenium Course

The Millenium Course is one of the reasons why Vilamoura has been considered the heart of golfing in Portugal. A traditional par 72 course, the Millenium Course used to be a part of the Laguna Course featuring more trees, greens and bunkers, as well as some water hazards. It was designed by Martin Hawtree and commenced operations in 2000. Prior to operations, the course underwent a lot of renovations to enhance golfing quality and ambience.
The golf course offers various challenges. For those looking for clearer landscape, the 4th, 17th and 18th holes are the best choices. Golfers may also enjoy a tough challenge in the more forested part of the course, where they have to watch out for accuracy and precision. Club choice is also an important thing to note.
Oceanico Pinhal Course

The Pinhal Course, an 18-hole golf course, is also one of the oldest in Vilamoura, built in 1976 and originally designed by Frank Pennink. The Pinhal Course meanders through rolling parkland contours, featuring a pool of Atlantic pines and other trees, ponds and a stream. When the course was being renovated, several holes have been extended to allow for flexibility in playing.
In addition to breathtaking landscapes and views, the Pinhal Course also features an elegant clubhouse, with a large veranda that offers a panoramic view of the files and practice facilities.
Pestana Vila Sol Golf Course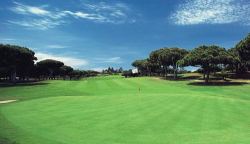 Another spot worth visiting is the Vila Sol Golf Course, a 75-acre course that hosts two sought-after golf courses: the Pestana Vila Sol Championship and Pestana Vila Sol Academy Golf Course. The golf course was inaugurated in 1991 and was designed by the famous architect Donald Steel.
The Vila Sol Championship is an 18-hole golf course that offers a very relaxing ambience for players. With conservation of natural resources as top priority, the Vila Sol Championship course boasts pine, almond and fig trees, flowers as well as lakes and streams that serve as hazards. The course lays down a 72-stroke challenge, giving golfers a pleasurable and exciting golfing experience in Vilamoura.
Meanwhile, with only nine holes tee shots covering the 19th to 27th hole of Vila Sol, the Village Sol Academy golf course is designed for golfers who want to have a short, fast but equally exciting game in Vilamoura. The course also features a driving range, chip areas and bunkers. The terrains are also natural, and trees also abound the place.