Whatever your taste may be, Dom Miguel Restaurant in Vilamoura, Portugal, will surely have a delicious meal for you. Being a one-stop food shop, the place offers a wide array of a la carte meal choices that are perfect for big group meals, family gatherings, special events or simple dinner dates.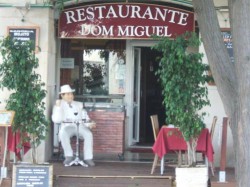 Dom Miguel Restaurant has one of the best selections of fish, meat and vegetable meals. You will also have a good variety of flavourful soups as appetizers. For a starter, you may try its homemade vegetable soup or fried prawns with garlic. Warning: you will have a little difficulty in choosing your main dish when you eat at Dom Miguel. But you may opt to have some light meals or take full orders and delight in sumptuous home-made repasts.
Vilamoura guests frequently order Pork Fillet Medallions, Dom Miguel style. The pork fillet is fried to a crisp, then dressed with gravy and garlic and complemented by home-made chips and vegetables.
The place also has very healthy meals perfect for those in a diet. One of the most popular fish dishes is fillet of John Dory with Lime sauce, which comes with boiled potatoes and vegetables. Dom Miguel Restaurant is also one of the most child-friendly places in Vilamoura, making it a favourite dining spot for families. It has a special menu for kids and young at heart, which includes grilled chicken breast and bolognaise. There are also special meals good for two people, which are ideal for romantic dinner dates.
Quality is top of mind for Dom Miguel Restaurant, as evident in its clean facilities and comfortable ambience. The place is accented by neutral colours and light yellow shades to exude a classy atmosphere. The lighting is just right for your fine dining experience.

Dom Miguel Restaurant is open to serve you dinner from Monday to Saturday. The restaurant also holds special events, such as family reunions, seminars or weddings.
Dom Miguel Restaurant
Avenida da Marina, Edifício Via Marina, Loja 11
8125-401 Vilamoura
Algarve, Portugal
Tel: +351 289 301 821
Email: vilamouradommiguel@gmail.com
www.vilamouradommiguel.com