Another unique way of exploring the region of Algarve is through a tour to places that feature stunning arts and crafts that this southern region of Portugal offers. Of course, the best starting point for this trip is Vilamoura, which in itself is a place of art, featuring modern and ancient architecture; and a host to arts and cultural events as well as home to art shops.
After a short trip around Vilamoura's art shops and venues, tourists should not miss taking a trip to the neighbouring towns like Quarteira and Silves. But visitors starting in Faro may also start this tour with the two of the best shopping centres in Faro, before heading to Vilamoura and then to Quarteira and Silves.
Short trips to these towns can take a day, but to immerse more into what people of these towns offer, a two-day tour or more is recommended. For such tour, tourists can take the bus or hire a car or a taxi.
Architecture, Music and Crafts
Before heading to other neighbouring towns for an "art tour", tourists should first explore what Vilamoura has to offer. Vilamoura features a virtual tour not only to modern architecture but also to ancient architecture featuring Roman, Neoclassical, and Moorish architecture. Some of these styles are seen in some hotel buildings, as well as in one of its famed historical site—the Roman Ruins of Cerro da Vila.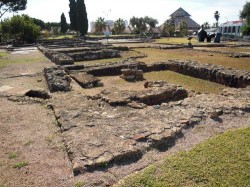 The modern golf courses here were also designed by famous golf course architects, while the main hotels were designed by some of the best Portuguese and international designers and architects. Meanwhile, the hotels also play host to a number of arts and cultural events in Vilamoura, including arts and crafts fairs. Some of the hotels that hold these events include the Tivoli Marina Vilamoura Hotel.
Of course, for trendsetters and those who are into fashion, there is the marina area speckled with shops showcasing trendy clothes and shoes, and jewellery items crafted by Portuguese designers. For those who want to see local talents, the marina is the place to stop by.
The marina restaurants and bars are known to host live performances of local singers and music artists. During the summer and golf seasons, tourists may also experience live performances of local and guest singers and music artists Vilamoura beaches.
Moreover, craftsmanship in Vilamoura is not only limited within gift and souvenir shops and hotels. Some of the bars in Marina also showcase superb arts, with their gastronomic creations.
Quarteira Arts Shops
A town adjacent to Vilamoura is Quarteira, which features great shopping places for travellers and tourists looking for souvenir and ornaments shops. Shopping in Quarteira, most especially in its supermarkets, offers a fun experience for shoppers who enjoy haggling for discounts.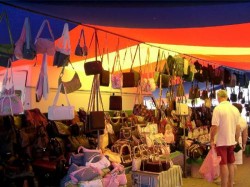 Of course, do not leave Quarteira without seeing what the town is known for—cheap jars, pots and embroidered or handmade linens. There are also souvenir and ornament shops at the centre of the town for a hassle-free shopping experience. Also, tourists should check out specialist jewellery stores which sell uniquely designed jewellery souvenir items.
For a more memorable shopping experience, visiting the local gypsy market is also a must. Quarteira hosts a local gypsy market offering local products at great deals every Wednesday.
Silves Architecture and Handicrafts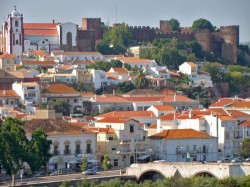 For serious shoppers, taking a trip to Silves, once the Arab capital of the Algarve, is also worth venturing. This trip will not only take you to an ancient castle and churches featuring stunning architecture but also to some must-visit shops known for their handicrafts and souvenirs unique to the Algarve. One of the best places to go to is Monchique, a local village in Silves known throughout Algarve for their handicrafts.
Faro's Culture and Algarve Handicrafts
Faro, which is just a bus ride from Vilamoura, is another place to go to for those who want to enrich their travel experience in this part of Portugal. This Algarve town is not only known for its big shopping centres that is home to shops featuring handicrafts, but also known as one of the leading towns here that play host to arts and crafts events. In April 2012, it hosted its first biggest arts and crafts fair commercializing handicrafts unique to Algarve.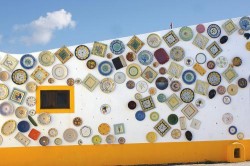 Tourists should not miss Faro's biggest malls, the Algarve Shopping and Forum Algarve, to find unique and authentic Portuguese souvenir items, such as pots and jars, jewellery items, ornaments and other memorabilia.
Visitors starting in this town may start this tour by visiting local shops and malls in Faro before heading to Vilamoura. Then, stay in Vilamoura for a night to experience its night attractions before heading to Quarteira and Silves.